-
-
Martial Arts Inspired Fitness Training

MartialFit 
Get In Shape For Summer!!
All fitness levels welcome!
Please book your spot with
Kelly – 0422 332 403
-

-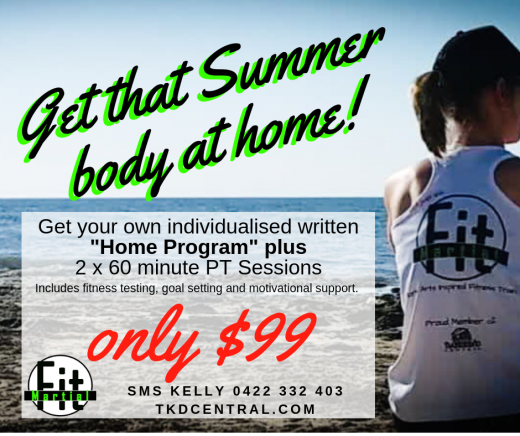 -
Do you want to get FIT and have FUN at the same time?
Maybe you like the idea of punching and kicking targets but you're not interested in
formal uniforms, gradings or obtaining a Blackbelt?
We have decided to step outside the box and invite MartialFit Instructor Kelly on board to offer just that. She is champing at the bit to get you fighting fit and having fun whilst doing so!
You will learn some basic strike techniques, from punching to kicking. This will then be combined into a fast paced and high energy HIIT style work out that will leave you feeling pumped!
From the very beginner to the more advanced, Kelly can cater to your individual needs.
It's a great way to let off steam, get your heart pumping and get those wonderful endorphins flowing!
Burn off your frustrations and increase your energy levels!
-
Contact Kelly on 0422 332 403
or email kelly@ourlot.com.au
-
Homepage – Click Here
Timetable – Click Here
Paragon Program – Click Here
Calendar Of Upcoming Events – Click Here
We're On FACEBOOK –  Click Here
-

Why I Love Martial Arts and Why all Women Should As … [Read More...]

Tahlia Gowland has been involved in Taekwondo Central … [Read More...

The importance of young women learning martial arts and … [Read More...]

Taekwondo Centrals Head Instructor 4th Dan Black Belt … [Read More...]

SELF DEFENCE CLASSES FOR YOUNG WOMEN Next Course … [Read More...]

What is Taekwondo to me? By Taekwondo Central … [Read More...]