Martial Arts Inspired Fitness Training
Do you want to get
FIT

and have

FUN

?

Kelly is ready to help, she is a qualified Personal Trainer and
1st Dan Black Belt Instructor.

She can help you:
• Boost your confidence
• Increase your fitness
• Improve balance and coordination
• Increase your energy levels
• Learn the basics before starting a TKD class
• Just feel GOOD!
———————————————–
Kelly is a truly amazing instructor.
For years I have tried everything for my son and he has taken to non of them and after 1 or 2 lessons/trainings would refuse to go. From the very first lesson Master C has loved it and idolizes Kelly, he is counting down the sleeps to his next session. I can't thank Kelly enough for all her support and encouragement, my son is feeling good about himself and his confidence is growing and it's thanks to Kelly's hard work.
– Michelle. M
———————————————–
Go no further than Martial Fit for all your 2019 fitness goals. She is patient, professional and knows how to get results! Kelly is an amazing trainer and will unlock potential you never knew you had!
– Michelle. G
———————————————–
Kelly is great. Martial Fit is great for busy mums. Kelly creates a program that is actually enjoyable and challenging. just started the 6 week fitness plan but so excited to keep going!
– Kim. A
–––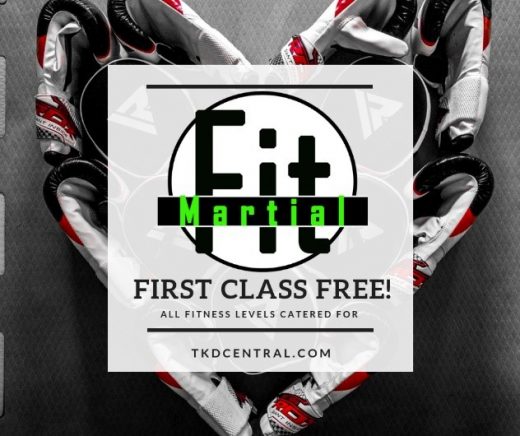 –
Martialfit
Regular Weekly Sessions
Cardio Boxing + Conditioning
All fitness levels welcome!
—————————————————————-
Thursday
5.30pm – 6.30pm
Bunbury Lyric Theatre
Burke Street Bunbury
Sunday 
3.00pm – 4.00pm
Eaton Softball Pavilion,
Recreation Drive Eaton
—————————————————————-
Contact Kelly on 0422332403
Facebook – Click Here
www.martialfit.com.au
or email kelly@ourlot.com.au
$10 pp. Bring a drink bottle and towel.
Please book your place by SMS.
–

Children's Private Lessons
Do you have a young one who could benefit from what Martial Arts has to offer? Maybe they are just too timid to step into a larger class atmosphere.
Kelly has a number of children she helps train through private one on one sessions to build their confidence and arm them with the basic skills needed to earn their first belt and give them the boost they may need to begin group training.
–

One on One and Casual Small Group Sessions
You can choose from one on one personal training sessions or small group sessions, at a time and location of your choice. You are free to choose what you wish to learn. From weight loss, cardio boxing, strength and conditioning, specific fitness goals, basic self-defence and everything in between. Kelly is here to help you realise YOUR goals. From the very beginner to the more advanced, Kelly can cater to your individual needs. Kelly also offers at personalised at home programs for your own specific needs.
–
Contact Kelly on 0422332403
Facebook – Click Here
www.martialfit.com.au
or email kelly@ourlot.com.au
–
Homepage – Click Here
Timetable – Click Here
Paragon Program – Click Here
Calendar Of Upcoming Events – Click Here
We're On FACEBOOK –  Click Here
–

Why I Love Martial Arts and Why all Women Should As … [Read More…]

Tahlia Gowland has been involved in Taekwondo Central … [Read More…

The importance of young women learning martial arts and … [Read More…]

Taekwondo Centrals Head Instructor 4th Dan Black Belt … [Read More…]

What is Taekwondo to me? By Taekwondo Central … [Read More…]