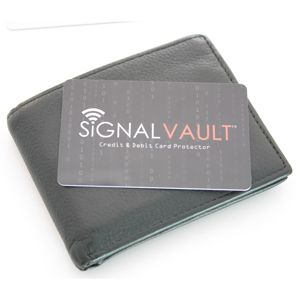 From Just $1.99 Each T0 Custom Design With Your Logo,  Your Own Double Sided RFID Anti-Scan Wallet / Purse Card
Proceeds Go Towards "The 6 Tricks Program" Which Educates Children On The Tricks A Kidnapper Will Try To Use To Steal Them
In todays society, scanning technology can very helpful but as we are finding out can leave our bank balance dry.
Anti Scanning Technology is one of the needs on the rise.
With todays "Tap & Go' or "Paywave", portable scanning devises can extract cash from your card by simply walking past your bag.
An Anti-Scan Card is the solution to stopping this, It looks like a credit card and just slips into your wallet or purse. The cards create a small protection field so any credit, debit cards or passports cannot be swipped
'The Trick Is To Put Your Business On Something Your Target Market Will Keep And Not Toss In The Bin. Something That Creates Value"

Gaining From A Disruptive Technology
Anti-Scan Cards & Devices will be a common technology. Simular how your computers Anti-Virus does its magic and keeps your computer free of bugs. Scan Blocking measures will be the "Anti-Virus of the Bank Card.
So get in early. Scan cards with your business, sports or group logo's will be purchased. Currently many people see these  cards advertising on either TV or at a point of sale a a store and everyone always thinks "I should get one of those"
If your cards are presented at a competative price, Itll be snapped up. People are only just starting to understand how advanced criminals can rob your saving right out from under you and a physical dollar bill wont leave your hand.

Get Your Business, Club or Groups Logo On These Cards
Using a trojan horse is a great way to get your logo seen. Having something a customer holds as valuable will not be thrown out. A business card with your face name and service like a Real Estate Agents card will only survive the next wallet clean out. A Business card that is a RFID Scanning Blocker will never be thrown out. It has a valuable use. Protecting mobile wealth. Its the business card that will never be thrown out. Imagine the value of being the first card in someones wallet or purse. It will never be removed, and clever you have your logo and information placed on this useful card. Imagine the use the benefit to being the first Real Estate Agent to get tha first card in the wallet or purse.
"Should A Real Estate Agent use our RFID Anti-Scan cards as a business card. It will have a far greater chance of being maintained amoungst todays sea of business cards handed out"

Some Ideas For Using Your New RFID Anti-Scan Cards
Use it For A Business Card They Will Keep
A Business who wants extra profit opportunities while marketing the business
A Business who wants to give the "Little Extra Service" that can translate to major future profits by giving it as a gift, Perhaps if they spend over a certain amount
The Mobile Business like a plumber, electrician or cleaning service, etc
The Restaurant who wants to give a useful reminder of their stay
The Bag Store that wants to add a delightfull "add on" sale that will keep them reminding where they received it their bag
The Hotel that wants to give a little complimentary thankyou that willl remind them of their lovely stay.
The Sports Club who wants to use it as a fundraiser or awareness campaign.
A complimentary 'Add On" after they pay membership for a sports club
The Sales Person who wants to market a product or service
A Reminder of a significant event Wedding, Gala Event, Concert
Accounting Firms, Consultants, Personal Services like Hairdressers & Beauticians
To Say Thanks To That Valuable Client
"Your Logo will live next to the most used item in their wallet or Purse. The Credit or Debit Card"

What These Cards Sell For Today & Its The Same Technology
www.signalguard.com.au  $39.00
If you sold 100 of your logo'd Anti-scan RFID cards that price, the profit would be $3601 profit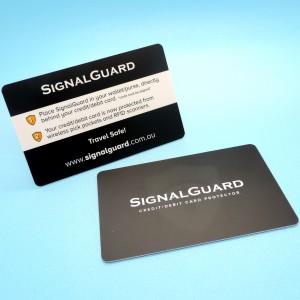 How We Can Help You Profit From Bying Bulk Cards With Your Business, Club or Groups Details On It
Great Resale – Meaning Great Profits. With The Price We Can Give You, It Means "Great Profit" per item sold.
Buy 100 Customised Anti-Scan Cards for cards of us for $2.99 each ($299) and you resell for $9.99 ($999) =$700 Profit 
Buy 200 Customised Anti-Scan Cards for cards of us for $2.89 each ($578) and you resell for $9.99 ($1998) =$1420 Profit
Buy 500 Customised Anti-Scan Cards for cards of us for $2.69 each ($1345) and you resell for $9.99 ($4995) =$3650 Profit
Buy 1000 Customised Anti-Scan Cards for cards of us for $2.59 each ($2590) and you resell for $9.99 ($9990) =$7400 Profit
Buy 2000 Customised Anti-Scan Cards for cards of us for $2.39 each ($5560) and you resell for $9.99 ($19980) =$14440 Profit
Buy 10000 Customised Anti-Scan Cards for cards of us for $1.99 each ($19900) and you resell for $9.99 ($99900) =$80000 Profit


Check Out Our Current Ebay Sales. You May Get A Bargain
As with  Signal Guard you can lift your price to increase your profit but most on ebay sell for around $6 to $10 but remember these are the top technology, a shield is created with the cards, like a wall. As soon as your card has the anti scanning card in front of it.
Our RFID Blocking Card is a very thin powerful card, it prevent any one who attempt to wiretap card information without your permit. It is so easily to use it only put this thin card in front of your cards, .It is a plastic card looks no any different from a credit card but only half of standard credit card size.
New issued bank card and all cash-less payment cards are upgrade to IC card or we call contact-less card instead of magnetic stripe cards which had no any security protection.. There is a big risk in this period transition for EMV immigration, for any cleartext on your banking card is so easily even without the owner aware of it by RFID facility just tap close to the card without touch, these clear-text information contain name of this card owner, expire date and card number, it will be terrible when a magnetic stripe card encoding by this information to pretend a replica bank card, it can be use for any POS terminal for payment.
Protecting RFID part by stack RFID Blocking Card attached Any RFID or Dual interface Card From any from any Skimming or snooper, prohibit Chip of Contactless Card be Read out. Especially for protect EMV Bank card, Credit Card, Debet Card, Cashless Payment Card or Tag from any Information disclosure by NFC mobile phone, or any RFID/NFC reader facilities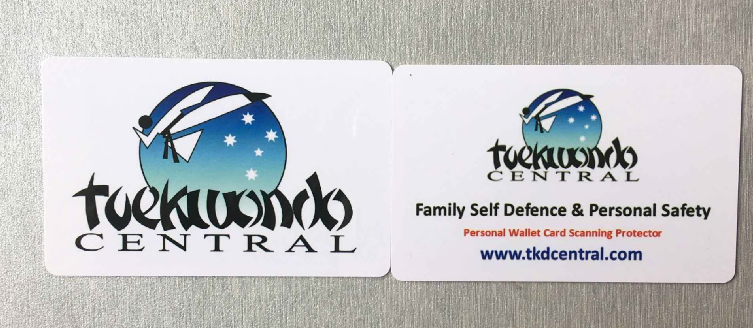 You'll Keep Kids Safer By Keeping Your Money Safer
Your Purchase is going towards our "6 Tricks" public education of teaching children how to avoid kidnapping and abduction by understanding when they are being tricked. The 6 Tricks is a kids safety workshop. Our goal is to expose as many children possible to the 6 Tricks
In this case knowledge is power.
How To Order
Just send me an email at
scanblockcards@outlook.com
Please state the number of cards you would like
Attach the logo
Write a basic layout of what you would like on it (Double Sided)
The Artist will email you a final design copy for you to authorise then we will go into production.
Please allow 3 weeks to for cards to be made and arrive.
We will keep you informed on its progress
Payment can be made through
Paypal
Bank Transfer
Or Cash
"Its The Business Card That Wont Be Thrown Out"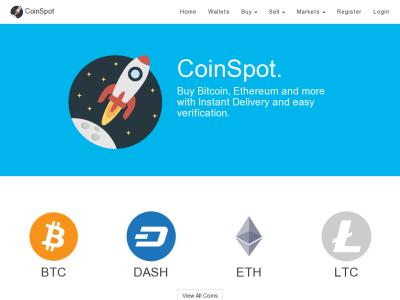 Other Interesting Stories
The 2000 $1 / 10c Mule Coin – Alternative Investments
Why Buy The 1959 Penfolds Grange Bin 46 Shiraz Now
The Northwood Ice Blue Strawberry Carnival Glass Plates & Bowls
1971 Penfold Grange, Bin 95 Shiraz, Improving With Age As An Investment And A Wine
Investing In Australian Art – Pro Harts Orange Ants Nest – Investment Alternatives
SHAZAM!!!  When Movie + Comic = Profit.  Alternative Investments. Comics
LINDEMANS Bin 1590 Classic Release Burgundy 1959. Only 6000 Bottles Released (Investors Dream Wine)
DESIGN YOUR OWN RFID ANTI SCAN CARDS To Protect Your Credit & Debit Cards – Great business Idea – Huge Upsells