The Bodies 3 Basic Building Blocks For A Health Routine by Justin Warren
Keeping healthy is something that we like to have, if your healthy, what ever you do – you'll do it better. Many people trying to lose weight dont think health. I learned that there is a difference between health & fitness. Looking after yourself isnt hard if you look at how the body functions or sometimes doesnt function. Let me explain.
When I look at health, I was sitting around one night and thought to myself, What would make the body die the quickest if I stopped doing it. My conclusion was breathing. Without air your body would die in minutes. Air is the most crucial element our body needs to exist. After 12 minutes of no oxygen, your brain starts to die, so proper deep diagphramatic breathing is the key. we'll touch on that later.
On my journey of contemplation into the basics of human health, the second fastest thing that we would die from a lack of would be water. after air, water is the worlds greatest solvent, our body is also made up of 65-80% water, this gives a serious clue to the importance of water to not just your health, but also your survival and existence. Your body can only go days without water before your body starts to die off.
Our number 3 thing the body need to exist is nutrition. Its one of the most debated, contradictory areas out there, however some simple basics are a great start to build from. Reversal Eating is a great way to keep your eating balanced to avoid putting on excess weight. The average body is made up of up t0 20% protien (Muscle, Hair) and 12 % body fat (lubrication fluids, oils, joints). Calcium must also play a part as in bones and nails. I really think by looking at what your composition is, you can see nutrients you need to keep replacing. A human would be lucky to last a couple of months without food and nutrition without seriuos damage or death.
BREATHING (Oxygenation)
I was reading how we only use 2/3 of our lungs at the most through incorrect breathing. shallow breathing starves the body of life giving air and oxygen. When younger my mates and I got a band together and did the local pub circuit. Back then smoking was allowed in venues so pubs become a smokey, loud affair that is far from healthy. One of the bonuses I had while improving my singing was some lessons I did with a classical trained singer in my home town named Rob Simm. He was always that guy who would enter the local variety concert and just loved to get up and belt out a good song. He had the type of style that the older generation loved and the teens didnt really understand to appreciate. I understood the skill it took to sing like Rob, I thought he was amazing. Rob had one of the most powerful lungs Ive ever heard and when learning to improve my singing, I knew exactly who to see
Robs lessons were cheap for what he give, the only problem is I had even less money, so I only managed to spend a small amount of time with him, but the lessons I had, Ive never forgot. The lessons were about singing, what I walked away with was a new system for breathing and breathe control, I was around 18 at that time, my breathing changed forever at that point from his lessons and have served me well during my martial arts training.
To get started, heres a simple routine you can try. The following ratio is
Breathe In ; Hold ; Breathe Out
4 ; 12 ; 8. Do this 10 times, 3 Times a day
and you'll notice your energy pick up (be careful of hyperventilation in which you'll get dizzy so dont do this when driving etc). Youll fully oxygenate your body and increase the most important element to your body existance
WATER (Hydration)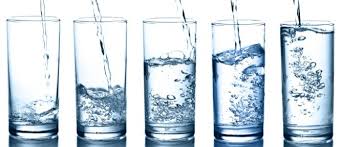 Water is of the utmost importance, Its the base element of every fluid in your body from blood to tears. so have a bottle handy and just have a glass every couple of hours or so. Your body has a natural signal to tell that you need water which is the sensation of thirst. most experts agree that by the time thirst sets in, its too late, dehydration has already kicked in. I get intense headaches when Im dehydrated so I try to stay ahead of dehydration by having small fluid intakes throughout the day. Non sweetened juices, milk and to an extent coffee & tea, but nothing beats a glass of cool, clear, thirst quenching, rehdrating satisfying H2O
High water content foods such as fruits (90% water) and vegetables (60 – 70% water) also contribute to the days total fluid intake, Im a big fan of Low Fat Milk (Not no fat or skim), remember according to your bodies composition, you need fat also, milk gives a good protien, fat, calcium rate. between all milk coffees (Late) from my home coffee machine, protien shakes, breakfast cereals and the odd glass to help the vitamens slide down the throat, I would consume at least 1-2 litres a day. Thats alot for a 72kg man. But I did find some interesting facts about milk. milk has a protien that is undigestable by the human stomach and passed through the body, its harmless. I was watching a show on TV how british scientists found that there is a protien that humans cant digest that grabs fat, stopping your body digesting and using it, and practically pulls fat through the body and out with this particular amino acid protien. It works for me. but dont over do any fluids.
NUTRITION (Fueling / Repairing)

How can an engine run without fuel?, How can the body repair without something to repair it with. The human body has regeneration ability, look at how a cut heals itself on our body, its an amazing ability of  humans body. but to repair your body needs to produce protien and other elements to heal. Protien it gets from what you digest, so a balance in eating is essential to heal or repair correctly. Food can be your bodies best friend but in saying that it has also become enemy number 1 to many overweight with bad eating habits.
Reversal Eating is a good base for weight control, eating more when you need higher energy and lessoning the calories at lower energy times. Another tip I got from former UFC World Champion Frank Shramrock who teaches dont eat more than the size of your palm per meal and eat 5+ smaller meals per day and when eating, dont eat until your full. Following this method you will stay satisfied and always have energy at the go as you havent eaten excessive food for your overworked digestion to try to break down for fuel and repairing.
Here's 3 nutritional bases I use to get you started
Fish Oil – This amazing substance I decided to take up due to sore joints from 27 years of martial arts training, including Olympic Trials, so it wasnt taken lightly as an interest. Brain, Lung, Heart health have all been improved with fish oil. One teen has made progress in returning to normal from a brain injury through 13g of fish oil a day. I wouldnt go that high, but I know it helps relieve and prevent asthma attacks.
Magnesium – This nutrient supports and strengthens your muscles and joints, my chiropractor enlightened me to this wonder nutrient when I damaged my back. It stops bad headaches, relieves muscle tension & cramps and is required for your body to absorb calcium, Magnesium makes a difference.
Recovery Protien Shake – I use a bodybuilders protien recovery shake to help my bodies repair. Ive tried a few types and their are many good brands. I use the Suisse brand recovery shake. It gives me all I need to be charged, recovered and ready to go. many amino acids (Protiens) and its vitamen and mineral packed. Protien shakes also decrease your hunger helping you eat less. If you cant afford the expensive protien powders, use milk, skim milk powder and a flavouring (Milo, Cocoa, etc) will also cover most of what these powders give you.
By starting with Oxygenation, Hydration & Nutrition you have 3 of the most important elements needed for your body to attain optimal health. Take notice of these attention you put each day into your Oxygenation, Hydration & Nutrition, upon getting them balanced, you will feel the difference and get much more out of yourself. Enjoy
Other

Living The Way

Blogs By Justin Warren
– The Power Of Reversal Eating – Eating Your Food In A Different Order Is The Key To Weight Control
– The 3 Basics Of your Health Routine – Oxygenation, Hydration & Nutrition
Other Interesting Stories
The 2000 $1 / 10c Mule Coin – Alternative Investments
Why Buy The 1959 Penfolds Grange Bin 46 Shiraz Now
The Northwood Ice Blue Strawberry Carnival Glass Plates & Bowls
1971 Penfold Grange, Bin 95 Shiraz, Improving With Age As An Investment And A Wine
Investing In Australian Art – Pro Harts Orange Ants Nest – Investment Alternatives
SHAZAM!!!  When Movie + Comic = Profit.  Alternative Investments. Comics
Learn Martial Arts
Bunbury Martial Arts
Eaton Martial Arts
Australind Martial Arts
Dalyellup Martial Arts
Binningup Martial Arts
Capel Martial Arts
Burekup Martial Arts
Dardanup Martial Arts
Back To Home Page
Click Here