WE FOUND ONE FOR SALE!!!!! – Scroll Down For Details
The Northwood Ice Blue Strawberry Carnival Glass Plates & Bowls
Updated December 2018
Almost considered Carnival Glass Royalty, the Rare Northwood Strawberry Design in Ice Blue is one of the most sought after pieces in the carnival glass world
A 9 inch Ice Blue Carnival glass plate turned heads when the unsuspected owners started their auction at $5 on ebay. the auction ended at $16,237.55 USD in 2007 this was backed up when a previous example sold for $23,000 USD in 1995 and $10,000 USD in 2011. With only 4 known to exist (2 in perfect condition & 2 slightly damaged). It just shows the rarity of the Ice Blues  amongst the top end carnival glass collectors. It is a story that has fascinated me and alerted carnival glass collectors to the profit a rare carnival glass piece can bring , not to mention the beauty thats worth admiring
Picture from
http://collectibles.about.com/cs/glassarticles/a/blpr060203a.htm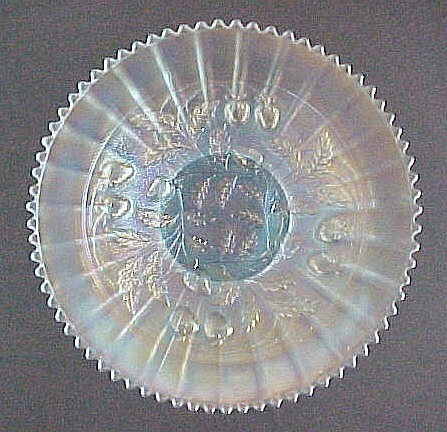 Picture From http://www.carnivalheaven.com/carnivalglass104/id4.htm
Picture From http://www.carnivalheaven.com/carnivalglass104/id4.htm
A 9 inch Stippled, Ruffled Bowl in Ice Blue, according to one of the worlds top informed carnival glass websites http://www.ddoty.com/strawberrynw.html have sold for $9900 USD in 2010 and $14000 USD in 2012 again proves how well the bowls stand with only 3-5 known worldwide a real carnival glass rarity and collectors dream, with one of these 3-5 is a very rare basketweave pattern in the background.
Another is said to have slight damage but still in amazing collectors condition. After all theyre just so rare. There has been a rumour that one of the 3-5 has been smashed but we cant verify the source at this time (We are interested on any feedback if this is true.) be it 7 or 9 rare plates, its a must for the serious collector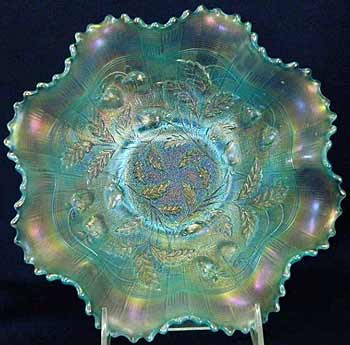 Picture From http://www.ddoty.com/strawberrynw.html
Bagging One Of The Big 7 Ice Blues
So where are they? If your chasing some Ice Blue strawberries, the USA is where to start, with 6 believed to be residing in the United States, 1 has made it to Australia and they come up for sale very rarely and no wonder, collectors tend to buy and hold the Northwood Ice Blue Strawberry Plate or Bowl, with the rarer bowl achieving a $14000 USD sale in 2012, the bowls are proving to get greater prices while the plate enjoys the power of reputation from the ebay sale story. With only 7 known examples of the ice blue strawberry, theyre known to grab attention and arent normally seen for sale very often always getting a great resale value, This is the very reason they cause a stir when they do come up for sale.
But with sales in 1995, 2007, 2010,  2011, 2012 there is still hope to become the owner of the strawberry rarity. Ebay must be the place to start, in fact click here and you may just find one now for sale
Ebay – Ice Blue Strawberry Carnival Glass
Looking At The Data
So Of the Big 7 Ice Blues, Whats the best investment?
The 9 Inch Ice Blue Stippled Strawberry Plate has had a strong start and rapidly decreased based on sales, overpriced start or did the buyers get a bargain? I think a bargain. With just 4 known, the low price payed in 2011 doesnt reflect its value. The Plate has sold for (In USD)
$23000 in 1995
$16000 in 2007 (an initial  -30% drop) = -4.3%pa
$10000 in 2011  (a further  -37% drop) = -9.25%pa
The plate has lost about -$812 (-5%) per year, this really doesnt make sense! I can only think that people in the carnival glass world werent aware of it availability to be owned or the last price was for one of the damaged examples. I would jump at the price to grab a $10000 9″ Ice Blue Northwood Stippled Strawberry Plate, I think the person who purchased this did their homework and got a bargain, a true rarity only 4 in existance. In fact if you are that person, please contact me I would love to hear your story on purchasing it. I think the next time one of these plates sell it will reach a total way above the $10k mark.
The 8-9 inch Stippled Strawberry Bowl Ruffled Bowl has been a growth story and based on the plate & bowl side by side, the last plate sale has been $10000 in 2011, with the bowl making $14000 in 2012. The bowl a suprised winner even with the plates reputation. The bowls data reads as (In USD)
$9900 in 2010
$14000 in 2012 (an initial +70% increase) = +35%pa
The bowl has made +$2050 (+35%) per year, its an amazing increase, an investors dream and the person who made the $14000 purchase still got a good deal, If the bowls interest remains high its price may have broken the $20000 mark some time before I wrote this. The next auction will tell, but its trending up while the plate has trended down. Either way there are some carnival glass pieces that will remain classics and the 2007 ebay story has made it one of the carnival glass greats and I believe with reputation cemented both the plate and the bowl will go up as they age.
A Well known maker in Northwood, a classic pattern, the rarest of colours, a delicate beautiful design and a great story behind it to cement its reputation will make a carnival glass collector or investor always want one of the the Big 7 Ice Blues, they will make Carnival Glass Royalty that no doubt will demand very high prices in he future, so owning or even holding one will be a sought after prize.
Do You Own One Of The Big 7 Ice Blues?
Please contact me, I would love to put your story up, your thoughts on your piece and even a picture of it, any privacy wishes will be followed, we just ask the country and state the piece resides in, my research is for pure interest on a piece that fascinates so many, a reputation like no other carnival glass piece I can remember. Even if your selling let me know.
Well known maker in Northwood, a classic pattern, the rarest of colours, a delicate beautiful design and a great story behind it to cement its reputation puts it on my "Must Buy" List
–
ANNOUNCEMENT
One Has Been Found & Its Up

For Sale

Now!!!!!
Its Hard To Believe but the 8-9 inch Stippled Strawberry Bowl Ruffled Bowl in Australia has surfaced in NSW and we have been contacted by the owner to announce its for sale
We have included the photos sent to us and send us a message on kidshield@hotmail.com or the message box below and we will relay the info to the owner.
Your information will not be displayed.
Price
$15000

USD neg

This is one of the worlds rarest carnival glass pieces with only 3-5 known worldwide
Ice Blue Northwood 8-9 inch Stippled Strawberry Bowl Ruffled Bowl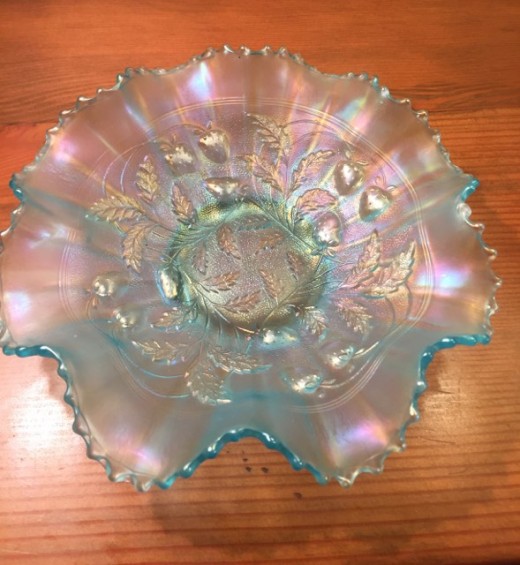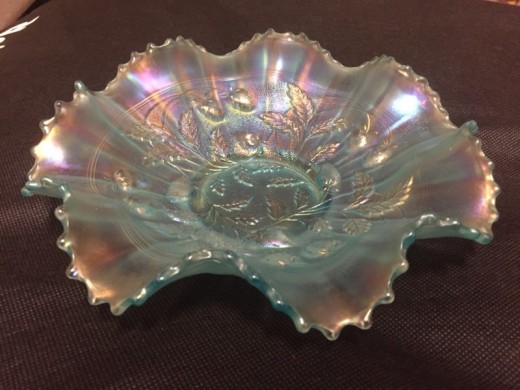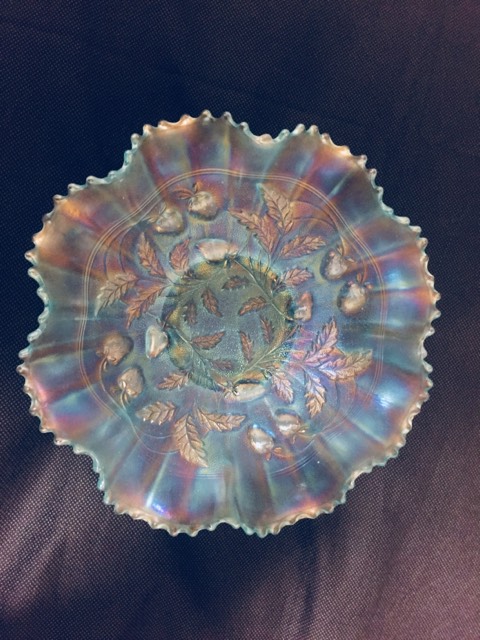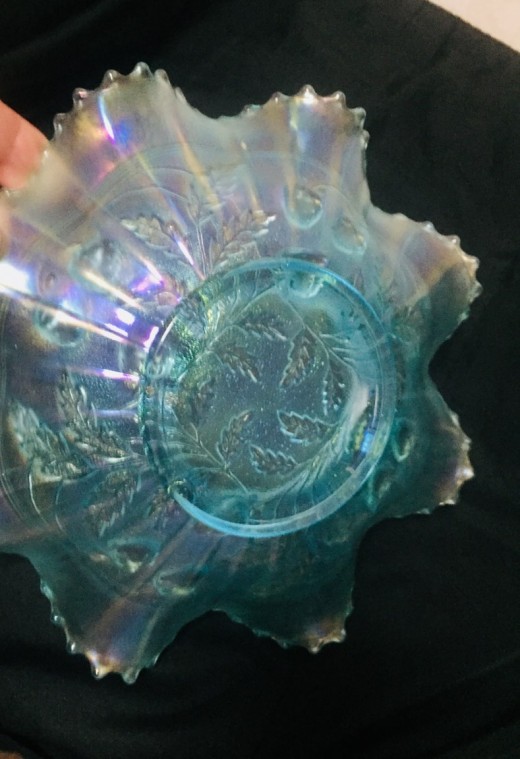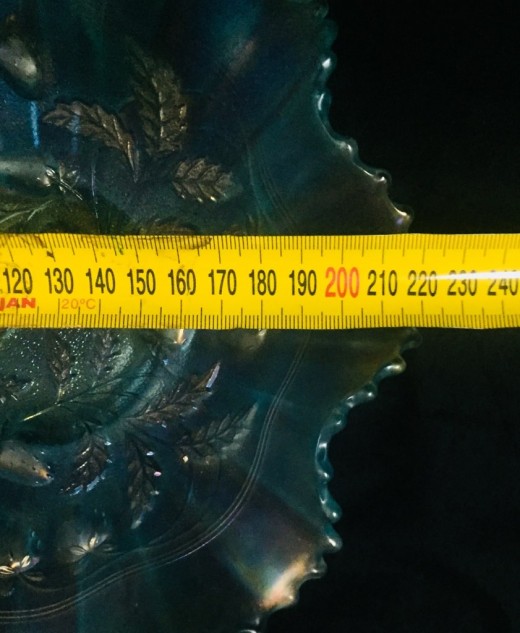 –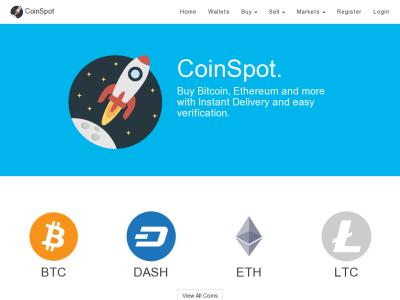 Other Interesting Stories
The 2000 $1 / 10c Mule Coin – Alternative Investments
Why Buy The 1959 Penfolds Grange Bin 46 Shiraz Now
The Northwood Ice Blue Strawberry Carnival Glass Plates & Bowls
1971 Penfold Grange, Bin 95 Shiraz, Improving With Age As An Investment And A Wine
Investing In Australian Art – Pro Harts Orange Ants Nest – Investment Alternatives
SHAZAM!!!  When Movie + Comic = Profit.  Alternative Investments. Comics
LINDEMANS Bin 1590 Classic Release Burgundy 1959. Only 6000 Bottles Released (Investors Dream Wine)
DESIGN YOUR OWN RFID ANTI SCAN CARDS To Protect Your Credit & Debit Cards – Great business Idea – Huge Upsells