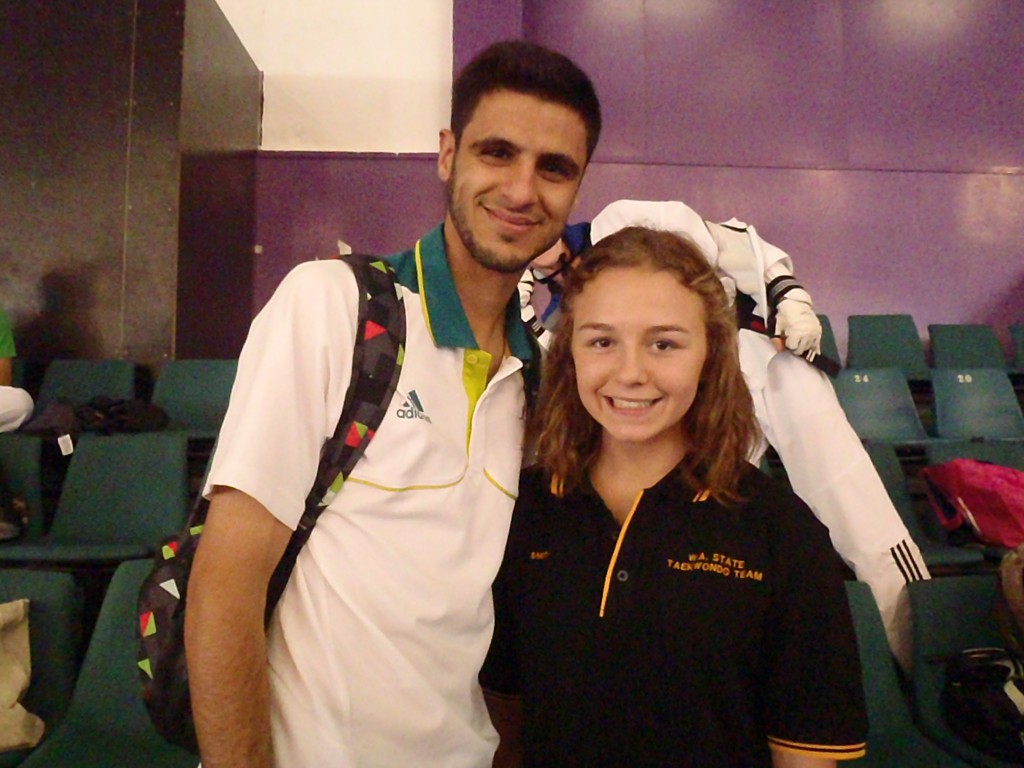 Jayme-Lee Smith gets a quick photo with 2012 London Taekwondo Olympian for the Australian Team –  
 Safwan Khalil
For the second time in 2012 Jayme-Lee has been selected in the Australian Under 18?s Taekwondo Team, with recently being selected to compete in the Oceania Championships held in the Gold Coast in December
What makes this an amazing achievement is she come out on top in a division that included a
Current National Champion,
A Past National Champion &
A Junior World Taekwondo Championship Competitor
for the heavier division than what Jayme-Lee previously competed in.
It also means Jayme-Lee has been selected in the Under 18?s – Australian Taekwondo Team for
2 different weight divisions in the same year, Promoting from a medal winning performance at the International Taekwondo Clubs Championships (ITCO) in Vietnam 2011, she was selected to represent Australia by Sports Taekwondo Australia earlier this year at the Junior World Taekwondo Championships (Under 18yrs) in Egypt at only 14 years of age. This achievement was earned earlier this year after winning gold at the selection championships held in Perth.
Now adding selection from Sports Taekwondo Australia to compete in the Junior Olympic Divisions at the 2012 December Oceanic Championships for Australia at a higher standard of competition and stands a good chance of earning a medal
An amazing accomplishment that only the highest of levels achieve and this was a major stepping-stone in Jayme-Lees progress towards international success at a world benchmark competition
Jayme-Lee has been recently informed that her high performance has helped her earn a 2012 SWAS (South West Academy of Sport) Scholarship after being recognized for performance over the years. Jayme-Lee has a "never give up" attitude in combat, and its not hard to see how comfortable she is under the tough pressure of full contact competition.
"Her speed is hard for many to adjust to, Her footwork makes it hard to land a kick on her and her ever-growing experience is serving her well, at such a young age, its very promising said coach Justin Warren. Jayme-Lee will now be looking at entering into the women's divisions to keep her challenged so she can continue learning what works for her and exposing weaknesses to improve her game for later results
Jayme-Lee will now rest shortly then be back into training, hunting International Gold at a major event to add to her already large collection of impressive medals, trophies and accomplishments.