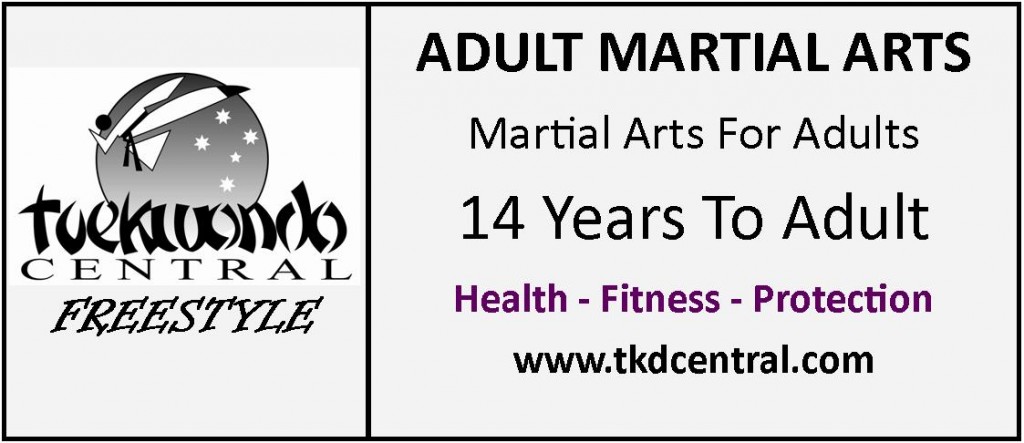 Teens & Adult Martial Arts & Self Defence Training For Ages 14 Years And Above
GOAL = Achieving A World Recognised Blackbelt & A Freestyle Modern Martial Arts Blackbelt

Open Taekwondo   (14 -55 yrs Male & Female)
Bunbury         6.30pm – 7.30pm            South West Sports Centre            Monday & Wednesday
Australind     5.30pm – 6.30pm            Australind High School Gym       Tuesday & Thursday
(Australind Is A Family Class)

"No Sport Can Do, What Martial Arts Can Do For You"
Taekwondo Central's Open Blackbelt Program is designed to get you to the level of a World Recognised Blackbelt and can be achieved at any Taekwondo Central classes throughout Bunbury, Busselton, Eaton, Australind, Dalyellup. Our Martial Arts & Self Defence Classes are suitable for both men & women ages 14 – 35yrs.
Through this system we can you through beginning basics right up to expert level
Black Belt via 10 stages , each stage or level is displayed by a different belt colour and sub-stages of each coloured belt by stripes. It is said "The thousand mile journey begins with a single step" the journey to your blackbelt will take you 10 small steps or belt levels
Taekwondo Centrals Open Blackbelt Program Syllabus cover blocking, striking, kicking, takedowns, chokes. joint locks, multiple attacker defence and weapon disarming at higher levels
Training at Taekwondo Central will take you on a personal journey of self development that will see many positive changes along with the development of effective usable self defence skills. Our System will keep you healthy, fit and flexible, feeling stronger and more confident to tackle life's challenges.
With regular training at Taekwondo Central, not only you will find an improvement in Courage, Respect, Confidence, Discipline, Patience, and Focus, but

Training is also for
Your Own Personal Quest = Do something for yourself, it's an achievable goal and one you will be continually proud of all your life. It will take up a couple of hours a week and is a discipline that has multiple physical & mental rewards. We will guide and develop you all the way, and even take you beyond blackbelt if you so wish.
Release Stress =  Training with us will allow a "Distraction" from the daily grind, with physically &  mentally stimulating exercises that keep you feeling more alert and feeling great
Feel Better = Combined with having fun, doing a form of "Active Meditation" to escape, Taekwondo will release the body's positive endorphins associated with exercise. You'll feel great and make your 30 minutes of exercise a day have purpose and a greater goal
Increase Movement = Taekwondo uses a full range of the body's movements and has a full stretching system that not only prepares the body to exercise but also increases natural flexibility levels.
Off Season Exercise = Taekwondo is considered a "Whole" exercise. It includes a greater amount of physical qualities to be successful. All that can be developed through our training. For this reason it makes a great cross training sport for athletes and sports people in the "Off Season".
Providing you keep your qualifications, Training at Taekwondo Central can be recommenced at any time in which you can just continue on your journey.
Confidence Booster = Nothing makes you feel better than releasing energy with kicking & punching targets. You'll feel pumped up, charged by the realization of how strong you can be if needed. It's a great release after that challenging day or annoying person
you have to deal with.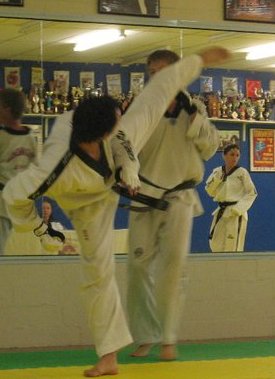 "It's a disgrace to grow old without finding
what your body is capable"
Back To Home Page
Click Here
Please Check Out Our Other Services Below