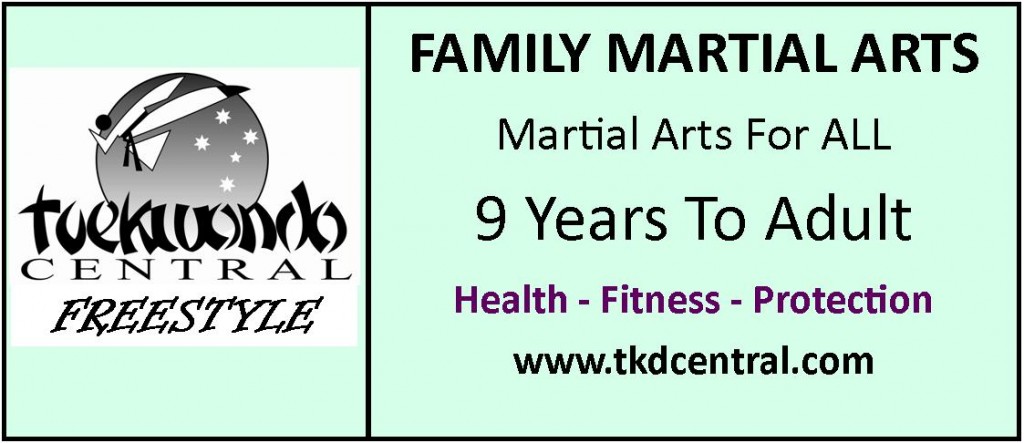 Recommended For Ages = 9 yrs +
GOAL = Quality Martial Arts & Self Defence Training for the whole family

–
Australind
Leschenault Leisure Centre
Australind
Tursday & Thursday
5.45pm – 6.45pm
–
Dalyellup
Dalyellup Community Centre
Dalyellup
Tuesday
5.30pm – 6.30pm
–
"A Family That Plays Together, Stays Together"
Taekwondo Central's Family Taekwondo Classes are an opportunity for individual family members to work on their own Blackbelt goal at the same timeslot, it's convenient and a great timesaver for families
We recognise the amazing bonding effect Taekwondo training as a family can have, from a common interest and a chance to share each other's successes as a team. At our family training timeslots all Blackbelt programs can be pursued including the
Junior Blackbelt Program, Open Blackbelt Program and Senior Blackbelt Program (Lesser Impact) so family members can train at their chosen program.
Through these systems we can guide you through the beginning basics right up to expert level Black Belt via 10 stages, each stage or level is displayed by a different belt colour and sub-stages of each coloured belt by stripes. It is said "The thousand mile journey begins with a single step" the journey to your blackbelt will take you 10 small steps or belt levels
Taekwondo Centrals "Blackbelt Programs" cover blocking, striking, kicking, takedowns, chokes. joint locks, multiple attacker defence and weapon disarming at higher levels with options to compete in sport taekwondo, martial arts – self defence demonstrations and join our Leadership Club.
With regular training at Taekwondo Central, you will find the following improvements
"Together. Everyone. Achieves. More (T.E.A.M.)"
Please Check Out Our Other Services Below
For All Training Timetables
Click Here
Back To Home Page
Click Here