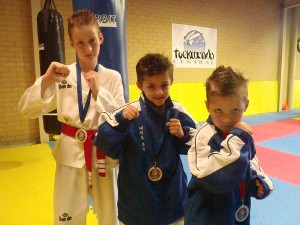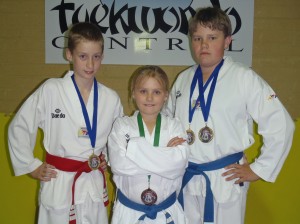 Pic 1 (L – R) Brad Yates (Gold), Jake Radford (Gold), Jordan Radford (Silver)
Pic 2 (L-R) Brad Yates (Gold), Chloe Wild (Bronze), Christopher Guy (2 Gold)
It was a great weekend on the sunny Gold Coast, where Taekwondo Central took a team of 12 to contest the Australian Taekwondo Championships.
There were some amazing performances from our club with Bradley Yates & Jake Radford the definate stand outs
Bradley Yates found himself in a final against an opponent the next heavier division up, competing in a catch weight division.
Unknowing to us his opponent had already won the division above that. Brad used precision timing, explosive speed and great
footwork to totally overwhelm his opponent taking out a 10 -0 win.
Jake Radford was amazing in his match control, the whole time he just had his opponents falling foor his well practised tactics
and it wasnt long till it was clear that it was his day. Jake has now in 2011 was the South West Taekwondo Champion,
The WA State Taekwondo Champion & now the Australian Taekwondo Champion in which has been a great year for him on the competition circuit
Blackbelt Jayme-Lee Smith has made an amazing climb in the last year. After winning her home town of "Collie's Young Sports Person Of the Year"
last year, the 13 year old added an U/18 Blackbelt Australian title to her string of 2011 achievements including WA State Champion
(Defeating the current last Australian Champion) and earning a Silver at the very competative International Clubs Taekwondo Championships
held in Vietnam
Our Amazing Mum Athlete Lorelle Klumpp took out gold and Australind Teenager Christopher Guy took out gold for both his Sparring & Patterns division (Unfortunately Christopher had no opponents again, so both divisions were a walk through). Lorelle put in alot of hours at our HQ preparing so its great to see that she got what she worked so hard for and deserved.
Silver Medals were earned by Jordan Radford, Jake Klumpp, Connor Peterson & Blake Shanahan
Jordan Radford (6) won his way through to the final convincingly and found himself facing a slightly older
opponent in the Final. With his opponent physical maturity playing a big part, Jordan found himself 5-0 down
heading into the last round. In what was won of the most amazing comeback attempts Ive seen from our club in years
Jordan found his opponents weekness and in a matter of minutes was back to 5-5 when the contest ended.
In sudden death Jordan just couldnt get the right distance and very narrowly in a real gutsy effort placed 2nd
Bronze were won by Branden Madaffari & Chloe Wild.
The event also lifted Taekwondo centrals overall gold medal tally to
100 Australian Champions now since our beginning in 1999.
Brad Yates (who won our final gold for the day) made the 100th champion
Back To Home Page
Click Here