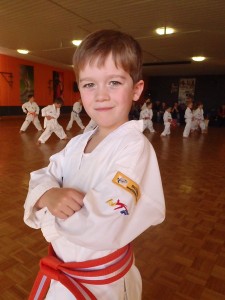 Brady Larsen is one of the many Little Dragons & Super Dragons that have now learned
the value of having patience after all. they have the badge to prove it
Taekwondo Central "Skills For Life Program" has just finished its first term with
many of the children earning their Yellow Patience Badge to show that they understand
how useful showing good patience can be
Each week all members had to perform certain activities to prove that they understood
and can use this new "Life Skill"
Brady has made some major progress this term. not only did he earn his patience badge
he passed his Orange Dragon Grading which means he is also promoted to Super Dragon
and moves up to the advanced class. "Weve really seen Brady come out of his shell"
Hes talks to us and tells us about his day where once he was hard to even get a word from him"
"Were both so proud of him and all the other Dragons who have earned their badge"
Said Master Justin Warren the Little Dragons Founder & Instructor.
The Class will now work this term to earn their "Respect Badge"
Back To Home Page
Click Here