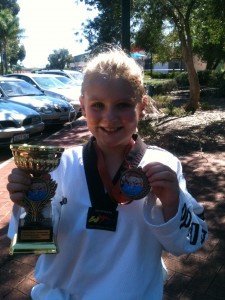 Taekwondo Central Black Belt Chloe Wild continues to improve in her quest for sporting excellence, winning a Gold in Sparring and a Bronze in Patterns to put in a solid all round performance at the recent Perth Ohdokwan Taekwondo Championships.
Due To Justin & Melissa having a break from Sport Taekwondo this year
Chloe was still keen to compete so she has been doing some stints of training with Taekwondo Grandmaster Ross Hartnett, 8th Dan Blackbelt and recently doing some work with Master Brad Emmett, at Eclipse Taekwondo to keep her skills honed until Justin & Mel re-enter Sport Taekwondo.
Well done also Maeve McNulty for contesting the Patterns division and putting in a strong performance.
Back To Home Page
Click Here