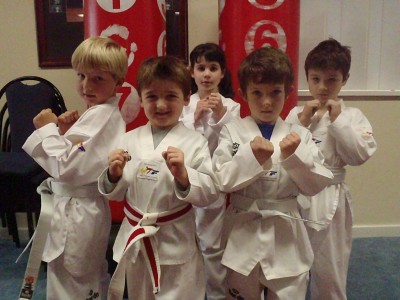 From Left to Right
– Jaxon Barret, Daniel Adams, Shalea Avins, Will Granger & Tomas Mullins take up there protective stance and all passed their Yellow Dragon Belt Grading
He's been the Little Dragonflies Captain for 2013, now Daniel Adams is making the
step up to train with the "bigger kids". Its been a huge confidence step up
hes trained all his time in the 3-4 years class but due to Daniel finishing the
Little Dragonflies requirements, he had to summon all his courage and did it pay off
He kicked, punched, yelled his way to becoming a Little Dragon and passing his Yellow Dragon
which is the program for 5 – 8 years of age.
Daniel is a pure example of the "Dont give up, keep trying" attitude we try to pass through our club.
said Master Justin Warren, hes impressed us all with his will to pass.
For Jaxon, Shalea. Will & Tomas, their grading was the result of some 10 weeks of training to achieve their level
and all did a fantastic job to pass all their kicking, striking, blocking, strike defence, kick defence and self defence requirements to pass their belt.
Jaxon, Daniel, Shalea, Will & Tomas are some of the over 70 "Dragons in the South West
that will attempt their belt examination this week.
Well Done To You All,
Back To Home Page
Click Here