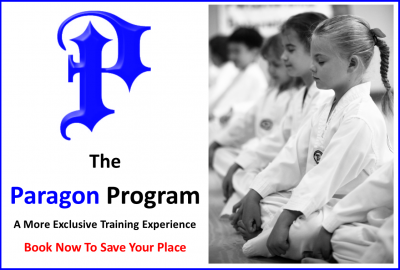 Thank you for being part of our Paragon Program in 2017 and with Master Justin now recovered from injury, he is looking forward to getting back into training with everybody
We want to offer our current members a deal of high value to say thanks, Really high value for Resigning in 2018 Term 1
Though The Paragon Program is a more specialised class, twice per week is optimal for getting all the benefits
We find the majority of members who use the weekly classes to back up Paragon get higher results through experience.
We want to encourage the twice per week training (minimal) to develop our students to a higher level and make grading examinations somewhat easier
Each Member from Last Year Will Remain On The Board In Black, Once Your Booking Is Confirmed It Will Be Green
Click Here For PARAGON PROGRAM PAGE
Taekwondo Paragon Paragon Pass – Term 1
1 – A Place In Our Limited Number Paragon Program
You will maintain your place in the Paragon Program for the higher Instructor / Student Ratio for higher learning
2 – Unlimited Monday – Friday Classes
That's Right. Unlimited for this term. Go Monday in Bunbury one week, Tuesday in Australind the next.
Busy This week, make up classes next week – simple – complete class freedom during the week
You have flexibility to choose. Click Here for Full Club Timetable
3 – Consider Conquering A FASTTRACK grading and speed your progress with ease. You have more than enough classes to make the required numbers
Click here to learn about FASTTRACK – Click Here
4 – Illness always hampers progress. from illness, injury, or condition sometimes members just aren't well enough to train
It will be easy to catch up and you wont be up for the $15 per catch up class with the PARAGON PASS
Valued At Up To                       $760
Our Discounted Price               $350
That Up To                                54% DISCOUNT!!!!
Offer Closes                              25th January 2017
Remaining places will be offered to club on 26th January
–
–
How To Book Your Place
Email – kidshield@hotmail.com
or sms  0407470964
Students Name
Preferred Class – Click Here For Class Options
Yes (For Paragon Pass). No (Just Standard Paragon Program)
Your Payment Method Used
EG
Justin Warren
Class 4
Yes
Cash
Your Payment Options

CASH 
Drop Cash To Ajana at SHP2018. Please give in sealed envelope well marked with your name
Click Here for SHP2018 Times
–
BANK TRANSFER 
Please Transfer To Account
J R Warren
BSB –  806015
ACC-  01554887
–
PAYPAL
To Email – kidshield@hotmail.com
Click Here For PAYPAL
Remember This Offer Is Only Open Until 25th January – Closes On Australia Day