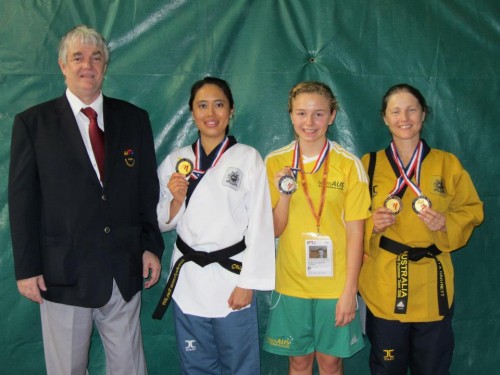 Picture Above. Grandmaster Ross Hartnett, Eunice Lau (Gold Patterns/ Poomsae), Jayme-Lee Smith (Silver Sparring), Master Carmela Hartnett (Gold Individual & Team Patterns/ Poomsae).
Taekwondo Central Teenage Dynamite has impressed again, taking out Silver in the U/18's Blackbelt Division though still only 15
Jayme-Lee's Lead up and prep was badly interupted after suffering  ligament dmage 2 weeks before the competition, leaving her no option but to rest in a crucial part of training and peaking.
Amazingly the current Australian Blackbelt U/18 Champion still put in an amazing performance
Fight 1 – vs New Zealand = KO – 23 seconds
Fight 2 – vs New Caledonia = 18 – 0 Victory (Mercy Rule was applied and fight stopped
Fight 3 – Vs Australia = 8 – 10 earning second place.
Jayme-Lee has an amazing future ahead of her with already earning very impressive results at such a young age. We just wanted to thank Brad Emmett & Chris Kemps for helping her with her rehab training in her home town of Collie