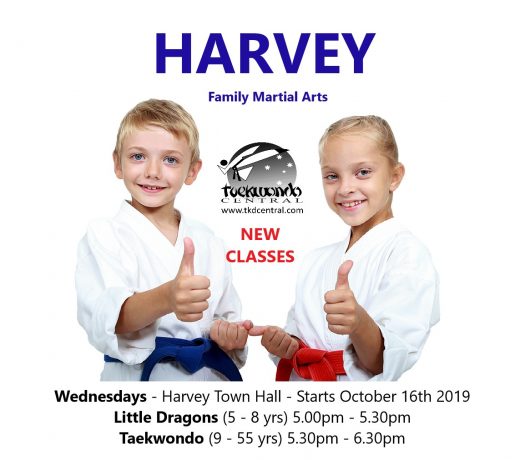 Taekwondo Central has a unique way of bringing Family Martial Arts to you.
We would like to announce the first of our expansions with a club starting in Harvey.
We are offering a Little Dragons class for improved kids safety with Martial Arts skills.
The skills taught in this class have helped 2 children escape real life abduction attempts in the past. This is more than just martial arts. This is a fun structured class to teach children how to stay safe when their parents aren't around
Our All Ages Taekwondo is to encourage families to enjoy the amazing bonding and feeling of achievement that only Taekwondo Central can offer.
Its Fun,
Its great for you and
You could earn your own black belt
Classes start October 16th –
By 4th Dan Black Belt Head Instructor
Miss Ajana Plunkett
Homepage – Click Here
Timetable – Click Here
Paragon Program – Click Here
Calendar Of Upcoming Events – Click Here
We're On FACEBOOK –  Click Here
Master Justin Facebook  – Click Here
FREE MEN'S SELF DEFENCE WORKSHOP Sunday 15th September … [Read More…]