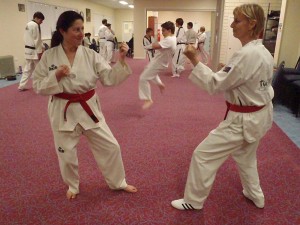 Maria Caserta & Helen Cole made a personal commitment to themselves To Achieve A Blackbelt With Taekwondo Central. After some 4 years of training that goal is about to become a reality as they zero in on their black belt.
Both Maria & Helen are regulars at the Taekwondo Central Bunbury Adults Class, with both balancing work commitments they have been training hard under the guidence of Taekwondo Central Instructor Melissa Warren and the training has paid off
With the next grading date expected to be announced very soon, both ladies are ready to step up to this fantastic achievement in which they will be under the watchful eye of a Taekwondo Grandmaster Mr Ross Hartnett (8th Dan Blackbelt)
We cant wait to see them in action. Go Girls!!!!
Back To Home Page
Click Here