Updating Our 2020 System And New Corrections To Taekwondo Central
The Covid Crisis brought a lot of things to light with us.
It affected all of us in different ways but being a firm believer in Crisitunity
(There's Opportunity in every crisis) and the frame of mind needed to exercise it helped me understand some areas I need to correct within our system
There are 3 areas I would like to focus on being
– Building a system of greater efficiency and safety for its members.
– Maximising training time
– Lifting level requirements and testing methods to ensure our students are getting the right skills and they can use them.
– Covering costs to function
Corrections We Will Be Implementing
1 – Class Bookings For A Term
To commit to a venue it means we are required to book for a term.
Term bookings will help us understanding who is in each class, who we can expect to teach if we have enough students to run a class and help pre-set training sessions based on the level of the student turning up, Easy roll calls can get the classes started quicker.
Most activities are term booking now and it only makes sense that for us to commit to a venue we need students to commit to the class for that term
2 – Due Date For Booking Your Class
We must have all bookings in before we start the term so the last day of school holidays will be the closing date.
This will give us a clear indication on what we can run via numbers.
Once we have the new system in operation, students will get information on re-booking their spot in class in advance during class
3 – Class Payments By Term
Nightly payments are time consuming. I really noticed the difference when teaching "Paragon" classes which is a term payment already.
How much more efficient, No carrying cash and change. No long lines at the beginning of class that can cut into training time and committed students to teach.
It all just runs so much smoother. Term fees will cover normal classes. It wont include midterm seminar or grading fees
4 – Invoicing & Payment Options
Once classes have enough students committed to them, we will invoice the term total based on what you have booked into. We will contact anyone who has booked into a class that hasn't made the required minimal number and give them other class options. There will be payment options that match your commitment with choices that are designed for 1x per week training, 2x per week training, and Paragon. we are also going to include payment options so students can pay the term fee either over 1, 2 or 3 payments per term to give some options. Once a student is booked into a class, the full term amount will be due regardless of which payment option is preferred. Invoices will be sent out in the first week of training
5 – Minimal Number Requirement
To cover costs It takes the 3 students to cover venue hire, another 2 students to cover each instructors / helpers costs, so depending on the class it takes an average of 5 students to cover costs to run a class. For some time we have been allowing smaller classes to keep functioning but the fact is we just cant now. The Covid crisis has taken 1/4 of the clubs income out so the buffer is gone. Unless we have enough numbers the class will close for the term so if you find you or your child in one of these classes you can help by introducing others to what we do and boost numbers of your class or booking into one of the other existing classes that made the minimal number.
6 – Grading Expectations
Our experience rule is to keep people honest, to make sure the are doing enough training be pass a belt examination. Some have this confused with once that amount of lessons is set, I can grade. A grading is not an amount of lessons, its a level reached through accumulated lessons. enough training to build the correct reflexes, mental pathways and muscles strength, flexibility and endurance so what you learn is usable. This takes time. If you float around the minimal number it = minimal effort and a false sense of security that you have great skills, in martial arts and self defence casualness leads to casualty. Proper skills cannot be developed through a casual training effort and then trying to convince the instructor you should grade. So we are changing our examination process which we will release details of later.
Term Prices & Options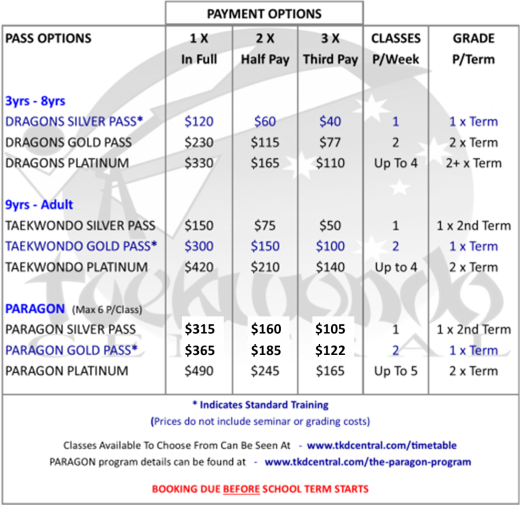 –


–
For
For a larger version of Timetable – please click here
Click Here
Or go to www.tkdcentral.com/class-timetable
How To Book Your Class
1 – Choose Your Classes From Our Timetable (Either 1,2 or 3 classes per week)
https://tkdcentral.com/class-timetable/
2 – SMS 0407 470 964 or Email – kidshield@hotmail.com
Subject Box = Term Booking
Full Name
Day(s)
Class
Time
Area
(Please List All Individual classes)
ie
Justin Warren
Monday & Wednesday
Adults Taekwondo
6.30pm
Bunbury
OR
Justin Warren
Monday
Adults Taekwondo
6.30pm
Bunbury
&
Thursday
Open Taekwondo
5.45pm
Australind
Once we have your booking, we will place you on the list for that class.
We will inform anyone who has booked into a class that doesn't reach the minimal number with some different options
Homepage – Click Here
Timetable – Click Here
Paragon Program – Click Here
Calendar Of Upcoming Events – Click Here
We're On FACEBOOK –  Click Here
-Starts Monday 20th July 2020  – Current & New … [Read More…]