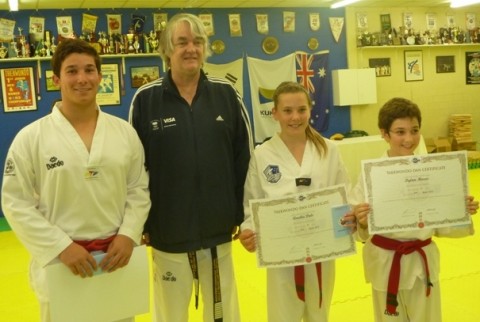 Marco Spadaccini (17), Amelia Dale(12) & Dylan Morris(10) are Taekwondo Central's latest to recruit to Blackbelt under Taekwondo Ohdokwan Grandmaster Mr Ross Hartnett (8th Dan Black Belt) held at The Taekwondo Ohdokwan Gym in Maddington
Marco, Amelia & Dylan had to perform Poomsae, Kicking & Punching Techniques, 1 step sparring. 2 step sparring, self defence and then finishing with rounds of WTF Olympic Style Sparring & Kickboxing sparring to ge awarded the level. The 3 have been part of a dozen blackbelts to be, now preparing for the next Blackbelt Grading.
The Taekwondo Central Trio had been training around 6 months to prepare for the challenging examination set by the Taekwondo Ohdokwan Grandmaster
The Taekwondo Central Contingent were put infront of a panel of Blackbelt Masters that also included former World Champion Women's Patterns Champion, Carmela Hartnett.
Marco, Amelia & Dylan will now enter the Black belt master program that will take their skill to the next level.
We would like to thank Jake Klumpp, Jasmine Klumpp & Melissa Warren for helping prepare the blackbelts and a big thankyou to Simon Peirce who went up to support the team as Master  Justin Warren was unable to attend due to injury.
Back To Home Page
Click Here