Though restrictions are lifted, we are not into all venues and timeslots just yet.
From this week our Dalyellup Community Centre Classes will be ongoing until the end of term so both
Tuesday & Thursday classes will run.
Our first South West Sports Centre Bunbury Class will start this week but its only a small one
so please check times. This class is on Wednesday.
At Eaton we have the same Thursday class at the Eaton Recreation Centre in which we are offering
a Dragons and a Taekwondo class. Sunday class will now also resume at Eaton Softball Pavilion
Were very hopeful to be opening other classes back up very soon as we attain permission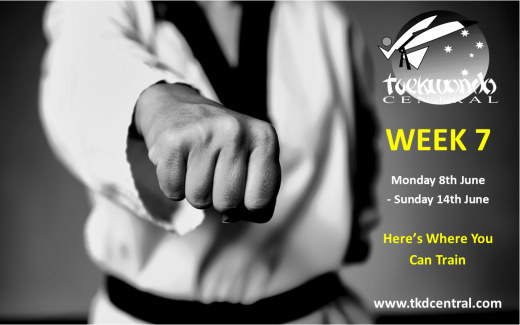 FOR ALL OF OUR SAFETY
No spectators will be allowed unless notified through lower numbers.
Limited Number of 16 per class. We need min 4 for the class to run
We will incorporate social distancing for spectators,
Payment will be done via bank transfer to help with social distancing
These classes are bookings only – we are required to keep records and details of all students training.
We require all parents / students to do the following
– Have clean uniform
– Personal hygiene is a must
– Social distancing rules apply for spectators
– If you feel sick, please do not come to class
– Bring your own towel and water bottle
– Please bring your own hand sanitiser (where possible)
–
HOW TO BOOK YOUR SPOT
SMS – 0407470964
Email – kidshield@hotmail.com
Taekwondo Central Facebook or Messenger
Please Read Conditions Below
–
Name
Day(s)
Class
Time
–
Eg
Justin Warren
Dalyellup Tuesday
Taekwondo
5.30pm
—————————————————————-
–
PRICING FOR CLASSES
Little / Super Dragons $12 per class
Taekwondo = $15 per class
—————————————————————-
–
HOW TO PAY
Please put "Eaton Classes" in reference box
Bank Transfer
J R Warren
BSB – 806015
ACC – 01554883
(This is a separate account to our normal class payments account
or Online T.A.P. classes account to help us manage it)
—————————————————————-
–
As classes are pre-booked and with Taekwondo Central having almost 200 members,
should you not be able to make the class you have been booked into,
please inform us by 12 noon on the day to enable us to give others the chance to train or you will still be charged for the class.
We wish to give as many access to training at our limited number classes under these restricted times as we can
We look forward to seeing as many back into training as we can
–
Master Justin Warren
—————————————————————————
CURRENT BOOKINGS
Green indicates minimal number has been reached
---
TUESDAY – DALYELLUP
LITTLE SUPER DRAGONS
Dalyellup Community Hall
4.45pm – 5.25pm
Annabelle Brooks
Harry Curtin
–
–
–
———————————————————————-
TAEKWONDO
Dalyellup Community Hall
5.30pm – 6.30pm
Anthony North
Bianca Stranger
Ryley Stranger
Craige North
Glenn Tyrrell
William Thompson
Olivia Thompson
Julien West
Mark West
Rebecca Collis

———————————————————————-
WEDNESDAY – BUNBURY
LITTLE-SUPER DRAGONS
South West Sports Centre
4.00pm – 4.30pm
– Sheridan Browne (Eaton / Bunbury)
– Rufus Morgan (Bunbury)
– Benjamin Mann (Bunbury)
– Harry Curtin
– Bren Veldre
– Max Shevchenko (Bunbury)

———————————————————————-
TAEKWONDO
South West Sports Centre
4.45pm – 5.45pm
– Mikayla Mileham (Bunbury)
– Rhiannon Maris (Bunbury)
– Jenna Snow (Bunbury)


———————————————————————-
THURSDAYS – EATON
LITTLE-SUPER DRAGONS
Eaton Recreation Centre
3.45pm – 4.15pm
– Brayden Roney (Eaton)
– Dean Emerson (Eaton)
– Mikayla Ritchie (Eaton)
– Mason Rawlings (Eaton)
– Jesse O'Connor (Eaton)
– Allix Snow (Eaton)
– Jacinta Mcmahon (Eaton)
– Logan Britza
– Liam Britza

———————————————————————-
TAEKWONDO
Eaton Recreation Centre
4.25pm – 5.25pm
– Jenna Snow (Eaton)
– Krystal Ritchie (Eaton)
– Eric Bulmann (Eaton)
– Jordan Gangur (Eaton)
– Mel Buhlmann (Eaton)
– Kathleen Sklenars (Eaton)
– Gemma Wright (Eaton)
– Joel Wright (Eaton)
– Holly Warner (Eaton)
– Chris Charry (Eaton)
– Shonna Charry (Eaton)
– Kian Stapleton (Eaton)
Lexi Hynes (Eaton)
Paige Hynes (Eaton)
Michael Collins
Samuel Collins
———————————————————————-
THURSDAYS – DALYELLUP
LITTLE-SUPER DRAGONS
Dalyellup Community Hall
4.45pm – 5.25pm
Declan Clark
Hudson Sebbes
Loukas Estrella
Harry Curtin
Madeleine Hampson
Max Hampson
Lauren Waters
Annabelle Brooks
Braxton Lowe
Archer Cockerill

———————————————————————-
TAEKWONDO
Dalyellup Community Hall
5.30pm – 6.30pm
Christopher Cunningham
Julien West
Mark West
Arton Estrella
Alecia Shapkaris
Kai Shapkaris
Aleysha Waters
Glen Tyrrell
Bianca Stranger
Ryley Stranger
Jason Taylor
Emiri Tsukamoto
Osami Tsukamoto
– Thomas Yazdani (Bunbury)
– Evan Wilkins (Bunbury)
———————————————————————-
SUNDAY – EATON
TAEKWONDO
Eaton Softball Pavillion
5.00pm – 6.00pm
– Trinity Best (Eaton)
– Annika Best (Eaton)
– Mel Buhlmann (Eaton)
– Rebecca Buhlmann (Eaton)
– Chris Cunningham (Eaton)
– Jackie McArthur (Eaton)
– Jordan Gangur (Eaton)
– David Browne (Eaton)
– Glen Tyrrell (Eaton )
– Rebecca Collis (Eaton)
–
We are very grateful to everybody who continues to support Taekwondo Central
A Sincere Thankyou
Homepage – Click Here
Timetable – Click Here
Paragon Program – Click Here
Calendar Of Upcoming Events – Click Here
We're On FACEBOOK –  Click Here