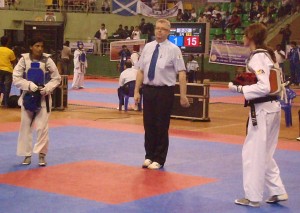 (Above – Jasmine wins Commonwealth Taekwondo gold after the competition is stopped in the 2nd Round)
Jasmine Klumpp wins a gold medal in an impressive performance at the 2011 Commonwealth Taekwondo Championships in Chennai India. Jasmine completely dominated her division with an
8 – 0 knockout,
7 – 0 semifinal victory,
and 15 – 1 in the Final with a second round stoppage to her Indian opponent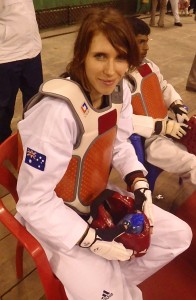 (Jasmine waits in the warm up area, preparing for the Final)
Jasmine really picked the training up leading up to the competition and combined with the great sparring partners she had to work such as Ben Jerez, Jake Klumpp, Ulrich Engels & Branden Madaffari give her the extra boost she needed to claim the title.
The only point that went against her was from her warnings not an opponent scoring on her. "It was like she was on a whole different level to her opponents" said Coach & Instructor Justin Warren. She did us all very proud
Taekwondo will be included as a Commonwealth Games Sport at the next Games.
Back To Home Page
Click Here