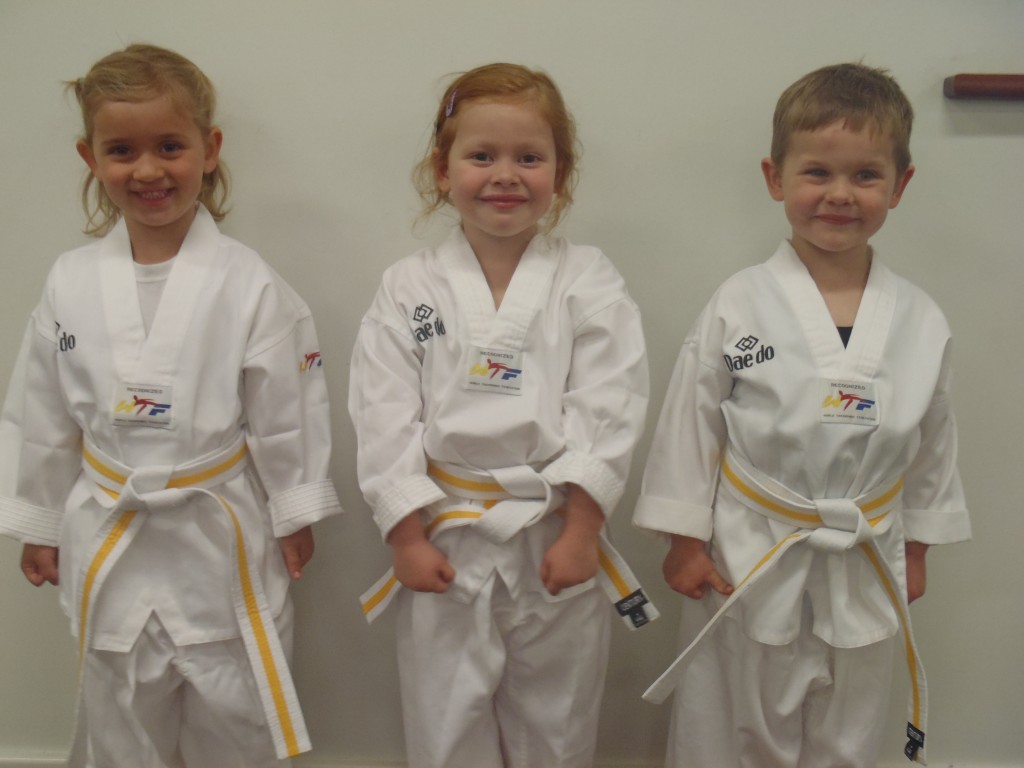 Abby Turner, Summer Marrapodi & Eric Buhlmann, proudly show the Yellow Dragonfly Belt they earned
The Little Dragonflies program run by Taekwondo Central is a great way to teach 3 + 4 year old kids confidence, focus & manners all within a basic self-defence and awareness program. For 21 little champions it was all smiles and hugs when all of them passed their belts to move up the next level.
For Abby, Summer & Eric it was a great reward after a big term of trying their best. The 3 Little Dragonflies all come from the Australind program. The Dragonflies demonstrated all skills required at a high level "I originally only had the program in Bunbury, it was to separate the young Little Dragons from the older ones, a separate class was my only option" The program continually grew and demand come from other parents to start the classes in Australind & Eaton, every term its growing in popularity. From enquires it looks like Term 4 will again top that level" said Instructor Master Justin Warren
Little Dragonflies has some major differences to a martial arts class, it's been fine tuned to help younger children. The syllabus, the teaching style, the delivery. Traditional forms are too ridged and wrestling skills defeat the purpose of escape, any sport martial art is also a waste of time all these focus on combat with limitations (rules). The fact is that a young child cannot fight an adult, there best chance is escape. Little Dragonflies is about personal safety and personal development, we also talk about respect for parents, understanding when they can use what we teach and of course having fun. They just love it!
Abbey, Summer & Eric will now focus on their next belt examination which will be in mid-December
Back To Home Page
Click Here
Latest News