The FASTTRACK grading was designed for one thing. Reward the disciplined, and why not? I think its fair and encourages people to step up and become greater martial arts just through greater hours of experience
Term 4 FASTTRACK numbers increased up 4X as the more dedicated student has realised their is reward for effort. From Yellow Dragon up to probationary Blackbelt. from ages 4 to 40's.
The Lesson = If you strive for a higher level, put in the effort and commit yourself, the reward is at the end, not just in level but greater health and personal satisfaction for life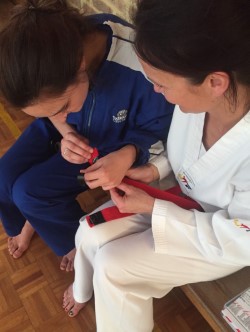 Melanie Buhlman gets "Striped Up" by Taekwondo Central Head Instructor Ajana Plunkett.
–
The highest belt that can be achieved before black belt is Cho Dan Bo, The probationary Black Belt level is the sign of adaptability of skill. gaining enough experience to turn "Drills into Skills"
We would like to congratulate Australind Family Class, Melanie Buhlman. Mel has attained her probationary level black belt at the FASTTRACK grading and at a high level also. Mels level is such a great example of what can be attained if you commit, push yourself, and don't sit where 90% of the population sit watching life go by.
Mel you are a champ!!  Its the home stretch
(Full List of all students will be up very soon)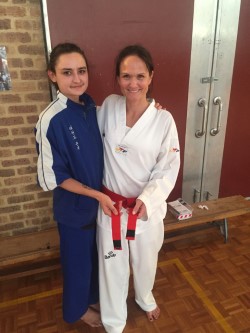 Taekwondo Head Instructor Ajana Plunkett stands with student Melanie Buhlman after passing her Cho Dan Bo Belt at the Term 4 FASTRACK grading
Homepage – Click Here
Timetable – Click Here
Summer Holiday Program 2018 ( SHP2018 ) – Click Here
Calendar Of Upcoming Events – Click Here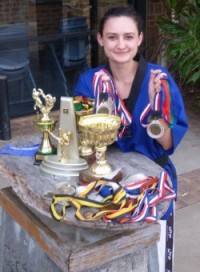 By Kristy Hitchens – Brown Mouse … [Read More…]
Thanks to Bunbury St John Ambulance Centre & … [Read More…]
Taekwondo Centrals Board Breaking Seminar was a great … [Read More…]
—  By Kristy Hitchens – Brown Mouse … [Read More…]
By Kelly Platts The Rotary South West Youth … [Read More…]
"Its not what you do for your children, Its what you … [Read More…]