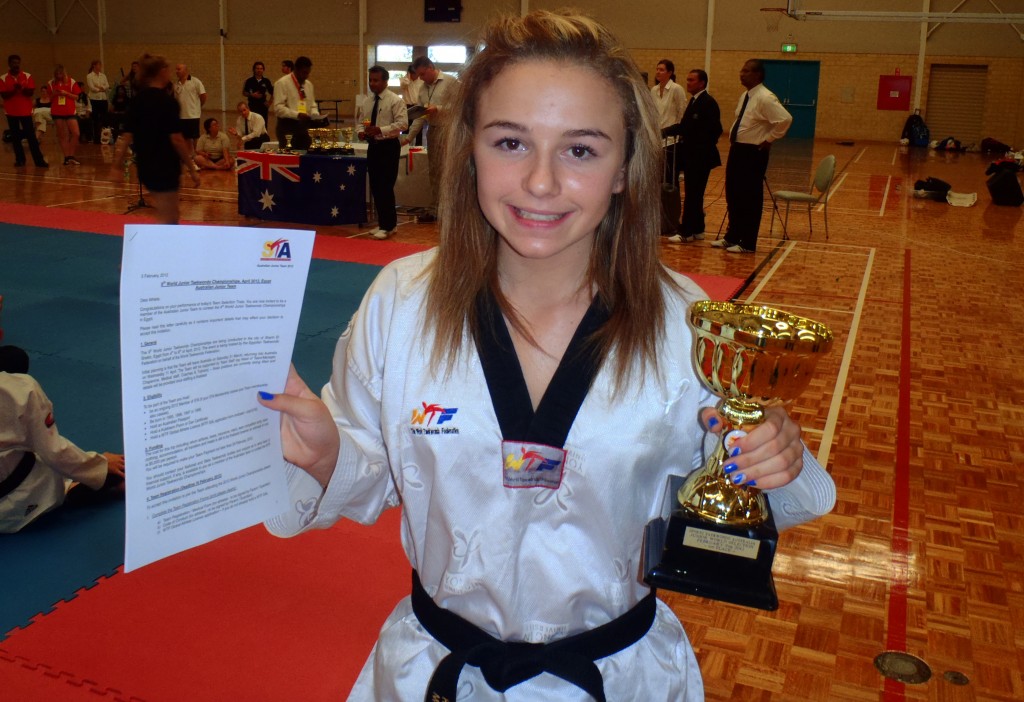 Jayme-Lee Smith (14) has pulled off a very impressive victory
and taking out gold at the recent
Australian Team Selection Trials for the World Junior Championships
in Egypt held over the weekend in Perth
At still only 14 years of age and fighting the under 18's division.
The Taekwondo Central Black belt thumped her opponent in the final
ending with a second round stoppage with the score at 20 – 2. Jayme-Lee
fought the u/18 silver medalist for the division up from last years 2011 Nationals
Its a string of achievements as she currently hold the WA State Taekwondo Title,
The Australian Taekwondo Title, The very highly contested International Taekwondo Clubs
Championships (Silver to Vietnam) and now earning a spot in the Australian Junior Team
seamed to be the next step, and she did it convincingly
Other competitors were Ben Jerez who fought a tough division to earn a bronze and Sarah Turner (14)
who lost to the evential winner by just a point.
Well done to all the team, were very proud of you all
Jayme-Lee, Ben & Sarah wanted to say thanks to Jake Klumpp, Jasmine Klumpp & Blake Shanahan
for your help. But the biggest thankyou to Branden Madaffari who helped every chance he could
by training and sparring the team. we owe you one mate (please dont dance – tee hee)
Thankyou to STA (Sports Taekwondo Australia) for giving the taekwondo championships to WA.
It was nice to not have to travel all the time to get an great opportunity.
GO CENTRAL!!!!!!!!!!!!!
Back To Home Page
Click Here