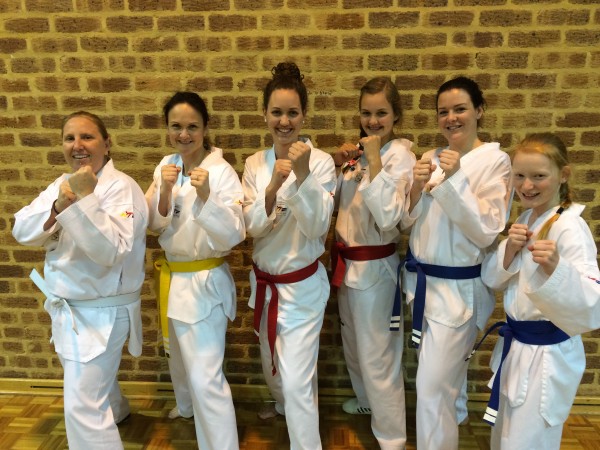 One of the great things about Taekwondo is its for everyone. Women and girls have always played a strong part in the population of classes and more so with families enjoying the freedom of movement and health benefits our style of martial arts gives you.
A great example is the ladies and teens above, all have other family members involved they share the goal of black belt with, more importantly all maintain a strong focus and it shows in the power of their strikes. The other great news is they have all passed their belt grading for term four
Jo Jauncey made the deal with her youngest daughter Lilly she would start Taekwondo when Lilly was old enough to promote from Little Dragons to Taekwondo, but both have followed the lead of oldest daughter Brooklyn Jauncey who will be grading for her blackbelt in early December. Jo has been somewhat a spy, who would of thought watching Brooklyn for so many years would produce such great ability. closet training? who knows but its worked. Jo & Lilly both passed their yellow belt side by side. it was a great moment.
Mel Buhlmann took up Taekwondo after daughter Rebecca stormed through the Little Dragons syllabus and started the Family Taekwondo class at Australind, soon younger brother started the Little Dragonflies and both Mel joined up with husband Garry and are both climbing up the belt ranks as a family. Mel adapts to the technical side like no-one else, her natural flexability mean she can face kick in a blink, and its a kick that willl finish the situation, Training with partner Garry has certainly added to her toughness, though she has a kind and friendly presence
Brittany Jongeling started when her father brought her and 2 of her sisters to classes to try a self defence school, Patrick, Brittany, Rhianon and Elissa all started together and have now split into two groups with Brittany & Elissa opting to train 2 x per week, and father Pat & Rhianon training on a more part time basis of once per week due to other commitments.
Brittany has turned herself into a very strong martial artist having powerful strikes and a quick adaptability to the techniques, its easy to see that Brittany enjoys training and the results can be heard from the other end of the room, her kicks generate a thump that sends a warning that they will crunch ribs or a leg
Elissa Jongeling has also adapted with ease to the style. having sister Brittany as her training partner, the 2 have pushed each other along to a high level. Dont let Elissa's small frame deceive you, this girl packs a whollop and displays dangerous speed and goodnight strikes, shes motivated and it shows
Racheal Atkinson started after both her sons started getting involved in the Little Dragons Program, after a small amount of time as a spectator, Racheal decided to step up to her own personal goal. with time only allowing training once a week, Racheal has been climbing the belts in her own pace and now over half way to black belt, her level is starting to really push through and we are starting to get an idea of what she is capable of and its been impressive so far. Racheals son Sam is featured in the story on The Little Dragons Patience Badges
Trinity Best trained with us when she was very young, and has now come back in to further her journey with us and were very happy she has. Trinity has a younger sister who trains in the Australind Little Dragons who also shows great ability. Trinity had a very strong traditional style of Taekwondo so we just had to change her to a more flexible style, but she basically did it herself by adapting and now shows some great techniques and well controlled punches and kicks with great usable power. Trinity wouldnt sting you like many her age would, Trinity's strikes hurt and hurt bad and we cant wait to see her ability at black belt. very promising.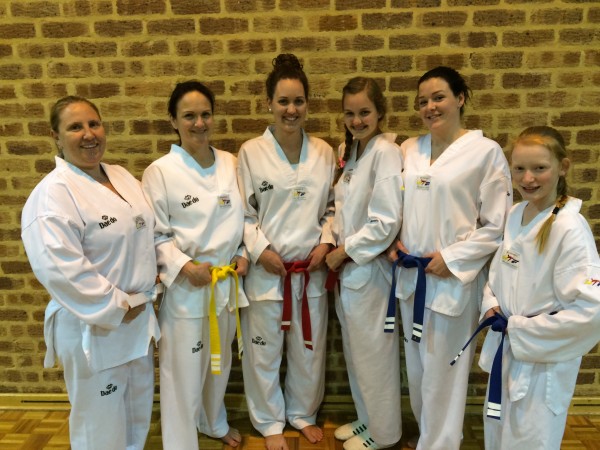 Congrats to all the women & teens who passed their belt examination, its great to see you all lifting your level each term
Homepage – Click Here
Timetable – Click Here
Paragon Program – Click Here
Summer Holiday Program 2017 ( SHP2017 ) – Click Here