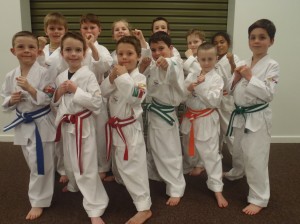 Its our first attempt at a Super Dragons class in Australind and its a great start.
With a large base of Little Dragons in Australind, it was time to commit to
opening another opportunity for the children to further their martial arts skills.
The new Super Dragons class which has a combination of Australind Little Dragons
who have promoted up and a number of current Super Dragons members who previously
made the trip to the Eaton Super Dragons class.
The New classes just introduced this term now make a straight run for parents and the younger
members of Taekwondo Central to stay in the one venue and as they promote they will just move up a time slot at all the Rec Centres we train at.
Our New Schedule is
3.45 – Little Dragonflies
4.15 – Little Dragons
4.45 – Super Dragons
For our Full New Timetable – Click Here
Back To Home Page
Click Here