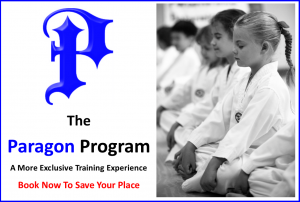 The Paragon Program is for the members who don't want the big classes and who like more attention to detail from the instructors.
Taekwondo Centrals Paragon Program is personally taught by Master Justin Warren (6th Dan Black Belt Taekwondo) with a limit of 6 per class
Book Your Space Now!
Bunbury Starts Friday 13th October 2017
Australind Starts Sunday 15th October 2017
Term 4, 2017.
The Paragon Program
Only 6 Members Per Class Allowed
– Bookings Essential
Friday Nights (Upstairs)
South West Sports Centre – Rotary Drive
Bunbury WA
     3.45pm – 4.20pm. 
Little or Super Dragons (5 – 8 years)
    4.30pm – 5.30pm.
Taekwondo  (Mixed Age.   9 years – Adult)
     5.30pm – 6.30pm.
Taekwondo  (Mixed Age.   9 years – Adult)
    6.30pm – 7.30pm.
Taekwondo  (Mixed Age.   9 years – Adult)
Sunday Evening (Upstairs)
Australind High School Gym – Break O Day Drive
Australind WA
    4.20pm – 5.00pm
Little or Super Dragons (5 – 8 years)
    5.00pm – 6.00pm
Taekwondo  (Mixed Age.   9 years – Adult)
 – Bookings Are On A Term Basis (Approx. 10 weeks)
– Most Instruction By 6th Dan Master Black Belt
Master Justin Warren
– Closer Attention To Detail
– Train Alongside Other Focused Students
Homepage – Click Here
Timetable – Click Here
Latest News
Term 3 Start Dates Bunbury Martial Arts – From … [Read More…]
Children's Self Defence Is Essential In todays world, … [Read More…]
Paragon : A model or example of profound … [Read More…]
John Crawford (3rd Dan Black Belt) smashes a board with … [Read More…]