JANUARY 2018
–
Do you want a higher level of learning?
Are you struggling learning under a larger class environment?
Do you want a closer level of instruction?
Here is your chance! We are offering an exclusive opportunity for you to learn ONE on ONE with a 3rd Dan Black Belt Instructor. The package we're offering includes:
.
– 8 private ONE on ONE 60 minutes lessons over 4 weeks During January 2018.
– Grading Opportunity
.
At the end of the 4 weeks you will be given the opportunity to grade and gain your next level.
That's right, gain a WHOLE level in only 4 weeks. This is where the benefits of private lessons really become clear.
Private lessons provide many opportunities and benefits.
They can be a great confidence booster, you're free to ask as many questions as you please, giving you the ability to fine tune and understand that technique you might be struggling with.
Gain higher knowledge in a shorter period with 100% attention from your Instructor.
Equipped with years of experience in training kids from aged 3 all the way through to adults in their 60s,
3rd Dan Blackbelt Instructor John knows the syllabus like the back of his hand.
.
Stuck on a pattern…? Instructor John can help.
Confused with a technique…? Instructor John can walk you through it.
Having trouble with one of your new kicks…? Instructor John can break it down for you.
.
Instructor John has a unique ability to draw the best out of our quieter and less confident students, so if this is you or your child, this opportunity is not to be missed.
Refine your techniques, boost your confidence, gain an extra level !
–
What are you waiting for, book NOW!
Training slots available Mon-Friday between 9am and 3pm.
.
Call or SMS John on

0468 534 533
Email –
JohnCrawford1997@gmail.com
Homepage – Click Here
Timetable – Click Here
Summer Holiday Program 2018 ( SHP2018 ) – Click Here
Calendar Of Upcoming Events – Click Here

SHP2018 BOOK NOW – LIMITED … [Read More…]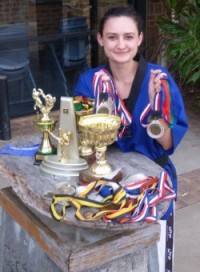 By Kristy Hitchens – Brown Mouse … [Read More…]

– Starts Monday 5th February 2018  – Current & … [Read More…]