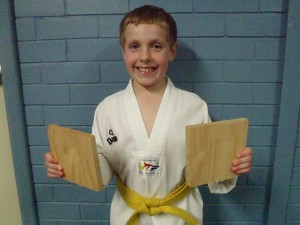 Busselton Martial Arts Enthusiast Riley Divitini showed some impressive skills successfully breaking a pine board as part of the Childrens Personal Safety Talk held by Busselton Taekwondo Central Head Instructor – Master Justin Warren.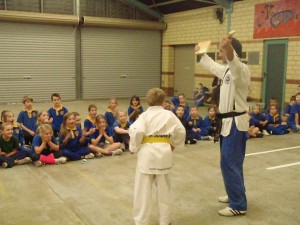 Riley was suprised when told by his instructor, as part of the the talk he was going to step up and smash through the board to show his ever increasing power. Master Justin Warren was confident he would have no troubles as he is a regular training member at Taekwondo Centrals Busselton class and also makes the trip to Bunbury once per week, proving how dedicated he really is. Riley knowing how to strike correctly snapped the board in half on the first attempt
Master Justn Warren finished the talk by also demonstrating a correct mindset and smashed through 5 roof tiles with a punch.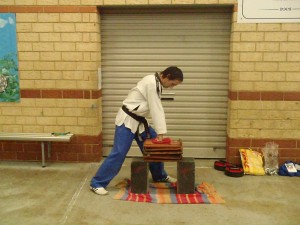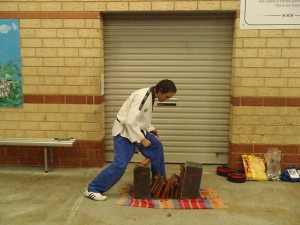 The Childrens Personal Safety Talk is designed to give children the basics to take responsibility for their own safety for times when parents cant be there. Its covers everything from not looking like a victim. simple self defence and where to get help. These skills have been successfully tested when in the past, 2 of our young members escaped real life abduction attempts in which they both escaped
See the mothers letters to us here – click here
Any school wanting Master Justin Warren to talk to your class or school
contact us via email
For Childrens Martial Arts Training in Busselton – Click Below
Busselton Little Dragonflies
Busselton Little Dragons
Busselton Taekwondo Central
Back To Home Page
Click Here