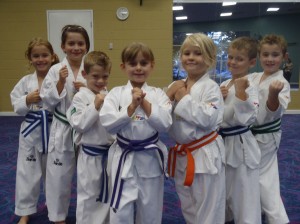 Some Of Bunburys Super Dragons That recently passed their belt examination (Ieft To Right) Mollie Swarbrick, Madison Booth, Deacon Malatesta, Natasha Hough, Justine Blower, Oliver Gibbons & Chase Baillie
Bunbury Super Dragons tested for their next belt on Wednesday Night and what an amazing demonstration of skills they all showed. All members passed their grading and now will promote to their next belt level.
Led by Super Dragons "Captain" Natasha Hough. All members of the Advanced Dragons Program had to demonstrate Kicking & Punching, self defence escapes, and counter striking. They all put in a top performance. Natasha has now finished the Super Dragons Program promoting to Red Dragon and now qualifying her to move up to the Junior Taekwondo Program.
Taekwondo Centrals Super Dragon Program is based on Anti – Bully & Anti Abduction skills rather than just martial arts. It gives a young child a far greater chance of escaping a "todays style" assualt and encourages escaping actions
To get your child involved in our Little Dragons Program, heres the following times
Bunbury
Australind
Eaton
Busselton
Back To Home Page
Click Here