Maya Smith, Ebony Bilcich, Ben Cole & Blake Shanahan, have all recently
moved up to Blackbelt, Ajana Plunkett makes her 3rd Poom (Jnr Dan) Black Belt
at a December Blackbelt grading with some 80 other State wide Blackbelts
Taekwondo Centrals 5 that passed were picked from over a dozen persons training to achieve
the high level in Taekwondo Centrals Blackbelt Pool
Ajana Plunkett was one of the highest scorers for the day, and we were very happy with the
students behavior, effort, attitude and addaptability to change,
they all deserved their next level just on the pure effort theyve put in.
Maya, Ebony, Blake, and Ben will now move to a new phase of their training by entering our
Advanced Blackbelt Master System, while Ajana has now will have a 3 year training stint to get
her 4th Dan Blackbelt. To achieve 3rd Dan is an amazing accomplishment that very little make
and especially considering she turns 14 this year.
Well done to you all, We are very proud of you
Back To Home Page
Click Here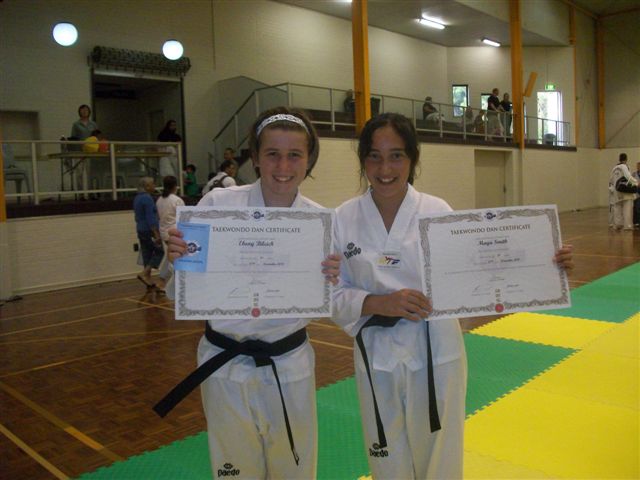 Picture – Ebony Bilcich & Maya Smith Proudly Show Off Their
New Blackbelt Certificates after Achieving Their 1st Poom Blackbelt