With a week of nice weather approaching and 2 venues available to us.
With Eaton Rec Centre granting us use of the Fitness Room on our usual Thursday time,
Eaton Softball Pavilion room will now be unavailable for 2 weeks due to it being used for school exams.
We are hoping as lifting to phase 3 restrictions set on June 6th will allow us greater access to our previous venues providing it is safe to do so
Dalyellup Community Centre will now hold regular Tuesday & Thursday classes until the end of term after our Covid-19 plan was accepted,
Thankyou to the Shire of Capel for this opportunity. We are asking students from Dalyellup to book in for the last 4 weeks of term (June) to help us secure the venue
To book into Dalyellup – Click Here to find how to book your place and current booked in students.
–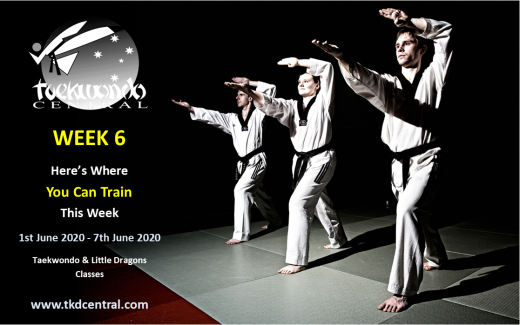 Up To Date Booking For Our Day Classes
If you still wish to book a spot – Click Here
GREEN = Classes will run
Please check back each afternoon as we are receiving more bookings regularly
—————————————————–
MONDAY – 1st June
PUBLIC HOLIDAY
—————————————————–
TUESDAY – 2nd June
Little Dragons / Super Dragons
Near LLC – Australind
3.45pm – 4.15pm

– Dean Emerson (Australind)
– Jesse O'Çonnor (Australind)
Taekwondo
4.30pm – 5.30pm

– Holly Warner (Eaton)
—————————————————–
WEDNESDAY – 3rd June
Little Dragons / Super Dragons
Near SWSC – Bunbury
3.45pm – 4.15pm

Sheridan Browne (Eaton / Bunbury)
– Maxim Shevchenko (Bunbury)
Taekwondo
Near SWSC – Bunbury
4.30pm – 5.30pm

– Mikayla Mileham (Bunbury)
– Rhiannon Maris (Bunbury)
– Jenna Snow (Bunbury)
– Thomas Yazdani (Bunbury)
– Evan Wilkins (Bunbury)
– Krystal Ritchie (Australind/Eaton)
—————————————————–
THURSDAY – 4th June
EATON REC CENTRE – Indoor Class
Little Dragons / Super Dragons
3.45pm – 4.15pm

– Brayden Roney (Eaton)
– Dean Emerson (Eaton)
– Mikayla Ritchie (Eaton)
– Mason Rawlings (Eaton)
– Jesse O'Connor (Eaton)
– Allix Snow (Eaton)
– Jacinta Mcmahon (Eaton)

Taekwondo
4.25pm – 5.25pm

– Jenna Snow (Eaton)
– Krystal Ritchie (Eaton)
– Eric Bulmann (Eaton)
– Jordan Gangur (Eaton)
– Mel Buhlmann (Eaton)
– Kathleen Sklenars (Eaton)
– Gemma Wright (Eaton)
– Joel Wright (Eaton)
– Holly Warner (Eaton)
Chris Charry (Eaton)
Shonna Charry (Eaton)
Kian Stapleton (Eaton)

—————————————————–
SUNDAY – 7th June
Little Dragons / Super Dragons
–
Taekwondo
Near ESP – Eaton
4.30pm – 5.30pm
– Trinity Best (Eaton)
– Annika Best (Eaton)
– Mel Buhlmann (Eaton)
– Rebecca Buhlmann (Eaton)
– Chris Cunningham (Eaton)
– Jackie McArthur (Eaton)
Jordan Gangur (Eaton)
David Browne (Eaton)
Glen Tyrrell (Eaton )
Rebecca Collis (Eaton)
–
Homepage – Click Here
Timetable – Click Here
Paragon Program – Click Here
Calendar Of Upcoming Events – Click Here
We're On FACEBOOK –  Click Here
---
– Dalyellup Taekwondo will be the first of our classes … [Read More…]
Our Online Training System Is Open   Taekwondo … [Read More…]