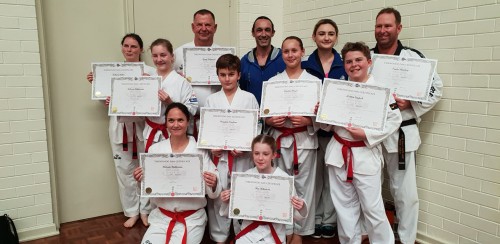 BACK ROW – Rebecca Collis, Gary Veljacich, Master Justin Warren, Head Instructor Ajana Plunkett, Travis Mackay.
MIDDLE ROW – Rebecca Buhlman, Brayden Nardone, Ariana Lloyd, Ashton English
FRONT ROW – Melanie Buhlman, Mia Robertson
Black Belt Grading May, 2018:
Results By Kristy Hitchens aka The Mortal Mouse
I attended a Black Belt grading seminar in Perth on Sunday, May 27 with my son Lucas and a dedicated group of club members determined to support their Taekwondo Family.
It was the first time I had been to one. The opportunity is only made available every six months.
Having now witnessed 9 Taekwondo Central Members achieve what so many others fail to do when they take up any form of martial arts, I would urge anyone to come along next time as a spectator.
I promise you won't regret it.
It's possible ONLY that dedicated minority of people who choose to pursue the myriad of health and well-being benefits that come from the study of martial arts would truly understand exactly how important the achievements reached on Sunday were.
Regardless, it would be hard to imagine anyone standing in that spectators' gallery who would not be deeply moved by what they saw occur on the mats below.
Before I go ANY further, sincere congratulations to Taekwondo Central's newest Black Belts:
* Melanie Buhlmann
* Rebecca Buhlmann
* Rebecca Collis
* Ashton English
* Ariana Lloyd
* Brayden Nardone
* Mia Robertson
* Gary Veljacich
And sincere congratulations also to our newest 2nd Dan Black Belt:
* Travis Mackay
They were among about 60 practitioners of all ages, who took part in the exams from clubs also affiliated with our OhDoKwan association.
And they did so in front of Grand Masters Ross and Carmella Hartnett along with about 10 other examiners plus the audience of supporters above.
Make no mistake. The almost silent atmosphere is tense, daunting and potentially over-whelming.
This is just not something you can achieve without dedication, perseverance, skill plus physical and mental strength.
The statistics vary but it is said that ONLY 1 in every 20,000 who take up a form of martial arts will make it to Black Belt level.
It's a truly stunning lifetime achievement and gains them entry into a very exclusive club.
Every single one of our members who triumphed on the day could tell you of their own personal battles and obstacles overcome throughout their lead-up and preparation to reach that glorious moment of accomplishment.
And understanding the inner wars being waged on the mats, is what makes witnessing your club members achieve their goals such a humbling experience – bonding us all together as a true Taekwondo Family.
Melanie Buhlmann: About three years ago, Mel set her whole family the goal of achieving a Black Belt in Taekwondo. Getting herself, partner Gary and daughter Becky to this point has been nothing short of climbing a mountain. All while working as a nursing lecturer AND completing a Masters Degree in nursing.
Rebecca Buhlmann: Those who know her have seen 11-year-old Becky's strength, technique, ability and maturity come along in leaps and bounds over the past six months. After battling illness and over-whelming emotions during Master Justin's testing one week prior to grading, she excelled on the day.
Rebecca Collis: Achieving Black Belt has been a long-term goal of Rebecca's and it was incredible to see her overcome her naturally shy and extremely gentle nature to reach victory. The hard work she has put into her training, particularly over the past 12 months has seen dramatic improvements in her strength and flexibility.
Ashton English: During his Black Belt preparation, Ashton had difficulty with some of the kicking techniques. He's a perfect example of practice makes progress! And he got there without ever losing his trademark grin. But we don't think we've EVER seen his wonderful smile so big as on grading day after smashing his boards on the first go!
Ariana Lloyd: Always doubting of her true abilities, it was at times necessary to help Ariana build her self-confidence. During her Black Belt training she developed a level of determination and commitment we hadn't previously seen. She pushed hard and what better way to sky-rocket her self- confidence than to work hard and achieve success as she did with her grading.
Brayden Nardone: Seeing our Brayden have his name called by Master Ross indicating his pass mark was such a sweet moment. We always knew he had the ability but Brayden is just one of those kids who struggles to focus. But knowing this about him is what makes his achievement all the more special. Brayden shows us all that with determination and perseverance, you CAN overcome the hurdles to get where you want to be.
Mia Robertson: Another one of our Members who is naturally shy and quiet, Mia previously lacked some power in her techniques. But wow! Over the past six months she has really come out of her shell and embraced a more fierce side. Fantastic to see.
Gary Veljacich: At just three months off turning 60, nobody has overcome the amount of physical obstacles thrown at Gary prior to reaching his Black Belt goal. Most significantly, (many might not know) Gary spent Christmas in hospital battling a potentially life-threatening infection. Early in 2018
he thought he had kissed goodbye not only this year's chance of reaching Black Belt but EVERY YEAR'S! How must he be feeling now?
Travis Mackay: Dropping back into Black Belt training after a bit of an absence from the sport must have had its physical demands for Travis but in no time at all he has become such a valued member of the club and so willing to share his passion and knowledge – in between preparing himself to achieve his 2nd Dan. He stayed focused on the day, not letting a tiny pattern mishap shake his determination to succeed. Brilliant effort!
Our next generation of Cho Dan Bo's will now begin their intense preparation for the next Black Belt grading which will occur at some point in November/early December.
Stay tuned to our website and new Facebook page for the release of dates later in the year and perhaps you would like to come along and watch!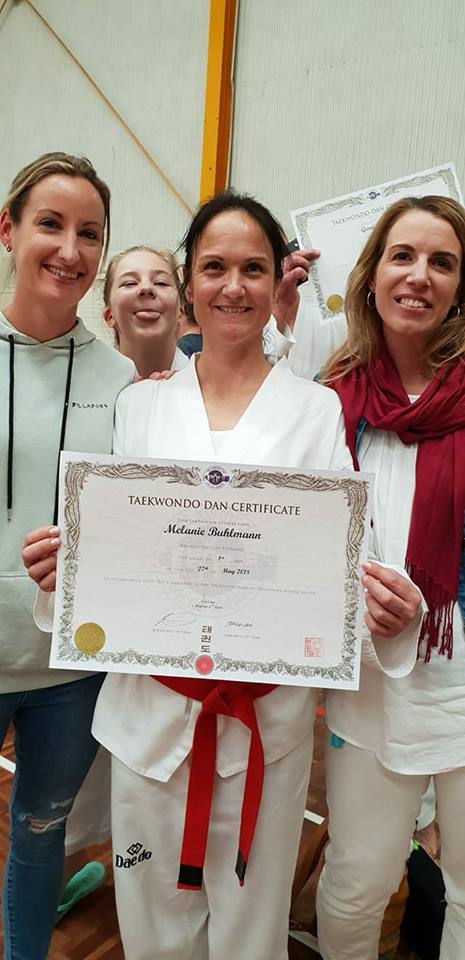 Kelly Rowe (Taekwondo Central Anteambulo). Melanie Buhlmann (New Black Belt) and
Mortal Mouse – Kristy Hitchens (Rebecca Bulmann in the back ground)
To See The Pictures Taken At The Grading – Click Here
Homepage – Click Here
Timetable – Click Here
Paragon Program – Click Here
Calendar Of Upcoming Events – Click Here
We're On FACEBOOK –  Click Here

– Test Your Technique. Term 2, $100 Contest This … [Read More…]

Taekwondo Centrals Head Instructor 4th Dan Black Belt … [Read More…]

Taekwondo Central's Challenge Day – Bring A Friend is … [Read More…]

TERM 2 CLUB DATES   For Our Clubs … [Read More…]