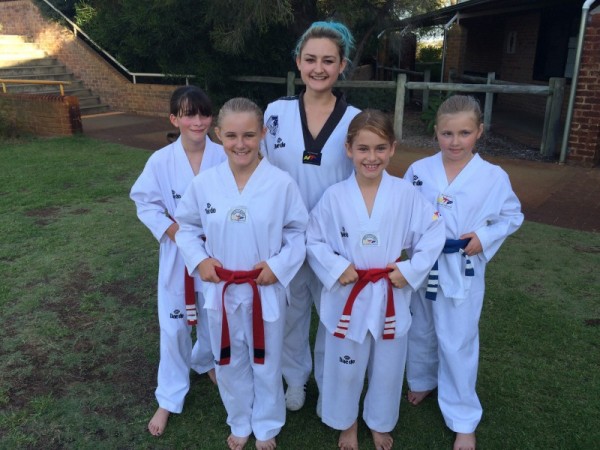 Ajana Plunkett surrounded by Madison Booth, Isobella Despot, Molly Swarbrick, Angelina Despot
4th Dan Black Belt is a major level in Taekwondo, its one of those benchmarks that most martial artist will never see. Only the real dedicated reach and its the level Taekwondo Central Instructor Ajana Plunkett is now training for.
Starting as a 6 year old in the Little Dragons Program, the now 18 year old assists or teaches classes and is especially popular with the girls of the Little Dragons Program in Bunbury, Eaton & Australind. This is where most see her but many aren't aware of what Ajana has achieved in her Taekwondo over the last 12 years.
Ajana will be the first to achieve her 4th Dan outside of the 2 owners of Taekwondo Central and will be Master Justin Warren first 4th Dan Black belt who isn't an immediate family member. Ajana was the first student to reach 3rd Dan black belt.
On the Tournament scene, Ajana has ranked as one of the clubs best to date with
Gold – World Taekwondo Expo Championships (Beating USA & Korea) held in Korea
Gold – International Clubs Taekwondo Organisation (Malaysia)
Ajana was also part of our Central Cyclones that appeared on Channel 7's "Australia's Got Talent" in 2012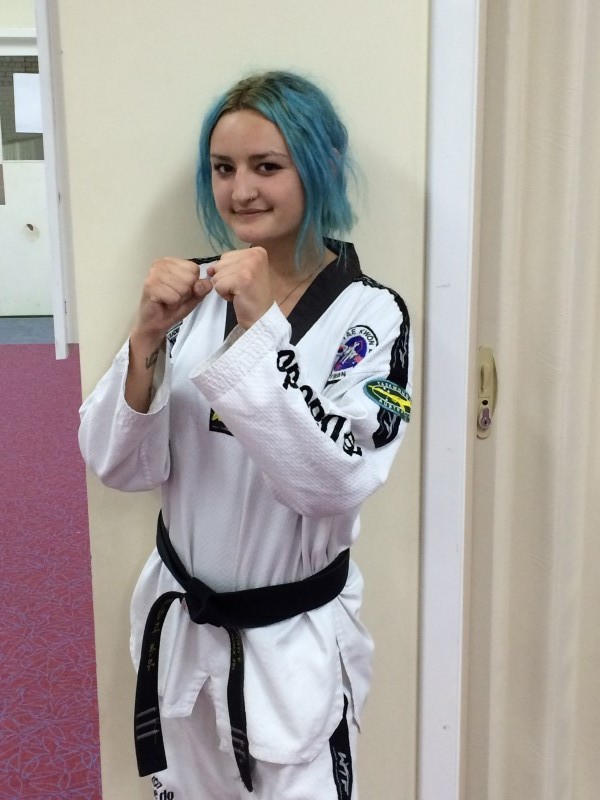 Ajana Plunkett Eyes Of 4th Dan Black Belt In Taekwondo
The World Taekwondo Expo was a great victory. We had set a strategy to beat 2 of the strongest Taekwondo Countries in the World. Ajana's movement and kick placement was unbelievable. She moved her opponent defence around and then smashed her opponents with a powerful head shot.
Ajana had a lot against her that day. 40'c+ temp in an outdoor stadium in numerous passed out just from the heat, shortened rounds because of 1000+ competitors from all over the world so that changed the strategy and they decided no coaches, so we made code words to indicate when to go for the head shot. It was a great day for our club but Ajana's was my favourite of that competition.
Reaching 4th Dan and being 18 will now make her able to represent Taekwondo Centrals on the Taekwondo Ohdokwan Grading Panel  (Must be 4th Dan or higher). who will grade up an coming black belts not just from Taekwondo Central but all of the state wide Taekwondo Ohdokwan clubs in WA.
Best of luck Ajana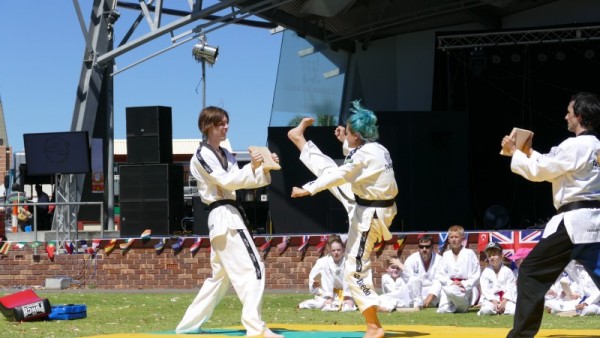 Homepage – Click Here
Timetable – Click Here
New Busselton Kids Martial Arts Classes – Click Here

The latest Anti-Scan Technology, exactly like "Scan …[Read More…]