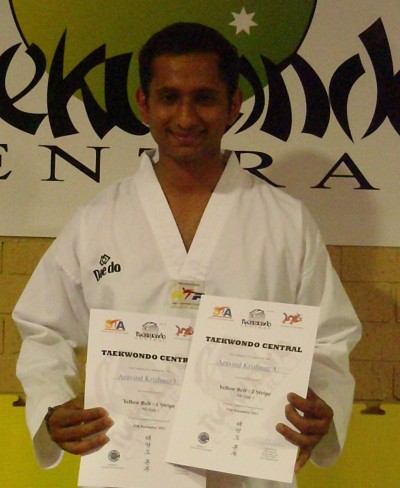 27 year old Aravind Krishnan. U,  has pulled off an amazing grading to earn his Yellow Belt 2 Stripe (8th Gup)
in an impressive display of skill and talent to Double Grade in his first grading.
Since entering the doors of tkdcentral.com Headquarters, he has thouroughly impressed all of the
clubs instructors with amazing talent and an ability to pick up techniques quicker than any student that has
entered the Full Time Academy
Aravind is a Martial Arts movie enthusiast who has learned many of his skills by mirroring the stars of the screen
and tranfered that into amazing skills and ability which made the Centrals Instructors job very easy.
Aravinds standard is so high we have got him in sparring the Blackbelts where he hold his own against the
clubs best
"We are so proud to have in our team" said Head Instructor Justin Warren. Not only his Martial Arts skill
but also his discipline, personality and mannerism will take him along way in the Taekwondo arena.
Aravind is now looking at grading to Yellow 3 Stripe (7th Gup) at the end of January as part of the January Summer Holiday Program
and has expressed interest in stepping into the Tournament scene in 2012. We wish him the best of luck in his future Martial Arts achievements
Back To Home Page
Click Here