—
 By Kristy Hitchens – Brown Mouse Communications
Equipping Nurses With The Protection They Deserve

Nurses are so often the unsung heroes in our community.
And a selfless dedication to the care of others, often means putting their own personal safety at risk.
Confronted by a patient who has become violent or invades their personal space or even just walking to their car during a night-time shift change – it's so important our nurses have the skills and confidence to protect themselves in a dangerous situation.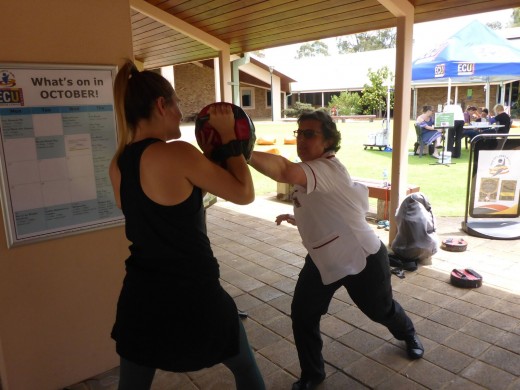 A group of nursing students studying at Edith Cowan University, South West Campus can now approach their future careers with greater peace of mind after this month participating in Master Justin Warren's Introduction to Self Defence Workshop .
Master Justin – a 6th Dan Black Belt in Taekwondo – presented two one-hour sessions during the university's recent Wellness Days for staff and students.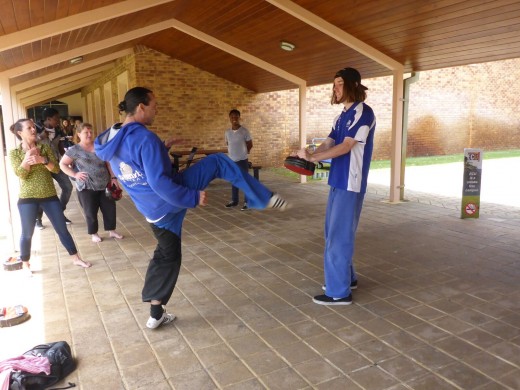 While the sessions were open to all students, it was the nursing faculty which jumped at the opportunity to get involved. Learning how to block, escape particular holds plus complete Master Justin's signature 5 Strike Combo left the students feeling energised and empowered.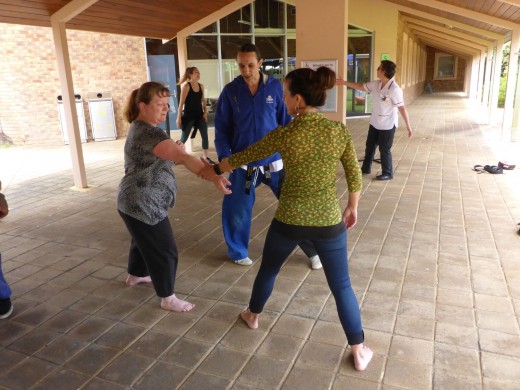 Several were shocked by their ability to overcome an opponent without requiring great strength, fitness or power.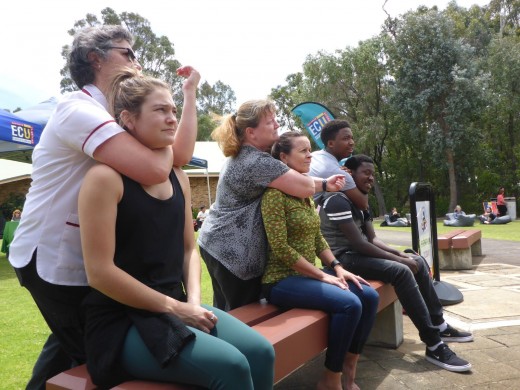 Here's what some of the students had to say afterwards…
Thank you so much for organising the event for us we all had a blast and learnt a lot!
– Tayla, ECU nursing student
I enjoy the work out from martial arts and it makes you feel very empowered being able to defend yourself. I left the workshop pretty pumped and ready to take on anyone! I was almost waiting for some weirdo to jump out at me so I'd get to demo the 'kick, flick, punch, knee- in-groin' just to see if I had it!! The guy running the workshop was very knowledgeable too and seemed like a great teacher. The activities were really well pitched at our skill level. He provided a really good overview of what it is all about. It was a great idea to include it in wellness week and it is a shame that more people couldn't come along – Kristy, ECU nursing student. Thank you so much for organising the event for us we all had a blast and learnt a lot!

– Tayla, ECU nursing student
What a great fun class that was and I did pick up many tips and tricks. I really appreciate you organising such a class and was grateful for the opportunity to attend. Justin is a great instructor and I hope tomorrow is well subscribed
– Heather, ECU nursing student
"Thank you so much for organising the workshop, was definitely worth the hour. Hope there will be more next year. I will definitely take it back up. Have missed it
– Nicola, ECU nursing Student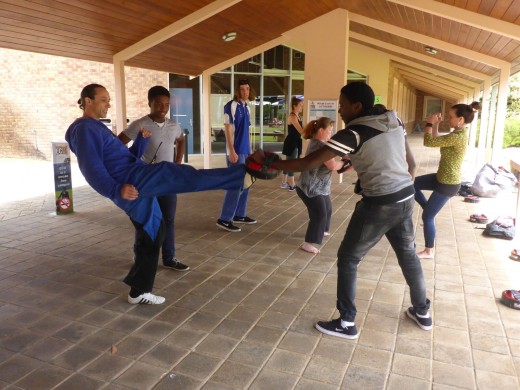 After the workshops, the nurses were able to return the favour by providing Master Justin and Assistant Instructor John Crawford with a health check pitstop.
Nursing Lecturer Melanie Buhlmann (and TKD Central Red Belt student) measured Master Justin's oxygen levels, heart rate and blood pressure.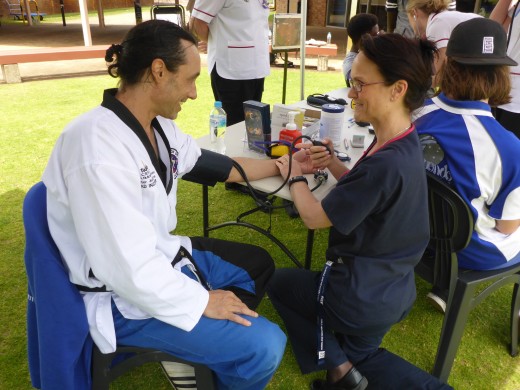 We're happy to report, despite struggling with his seasonal asthma, Master Justin was in good health! And despite always insisting otherwise, it turns out John has a heart in there after all!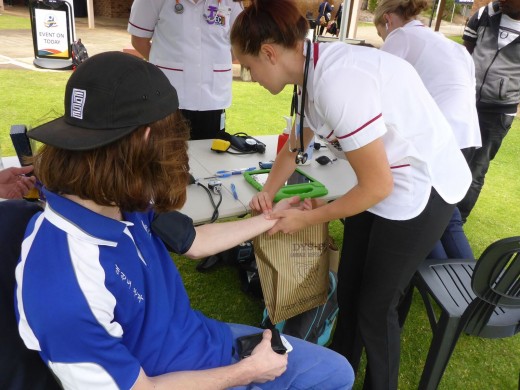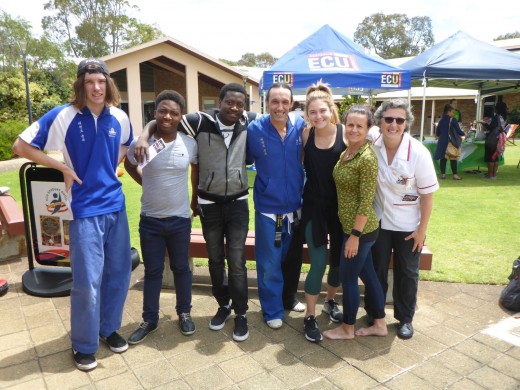 Here's Some Of The Participants Feed Back We Received
"What a great fun class that was and I did pick up many tips and tricks. I really appreciate you organising such a class and was grateful for the opportunity to attend. Justin is a great instructor and I hope tomorrow is well subscribed. "The nursing students and lecturers who attended the self-defence workshops offered at ECU had a magnificent time. I am so grateful that they took up the challenge and experienced the confidence and empowerment that comes with learning skills for personal protection.  "   Heather, ECU nursing student
The feedback I received from the participants and the spectators has been astounding.  I cannot thank Master Justin Warren and Instructor John Crawford enough for agreeing to provide these workshops on the South West campus despite many other competing commitments." Melanie, ECU nursing lecturer
"Thank you so much for organising the workshop, was definitely worth the hour. Hope there will be more next year. I will definitely take it back up. Have missed it."  Nicola, ECU nursing student
"Although a tad late, I am really glad that I did make it to the self-defence class. I totally enjoyed the instruction and found the moves that Justin taught were really beneficial. Justin and John were also very competent in ensuring we had the correct technique. I have just practiced a few moves on my husband and sons ????. They were all very impressed. I appreciate your efforts to promote such a great activity Mel and would definitely support future sessions". Fiona, ECU nursing student
"The self-defence session was lots of fun! The instructor was engaging and the exercises were fun and well-paced." Verity, ECU nursing student
"Thank you for organising the self-defence workshop on Wednesday. I had a great time and it was such a great way to de-stress, learn something new and interact with a new group of people. I also had a good laugh and felt muscles that I never knew existed. It was such a great activity and I would definitely encourage more to get involved if he ran it again." Jodie, ECU nursing student
" Justin and John were both confident, attentive, supportive and engaging throughout the session and made us feel comfortable as we learned skills we were unfamiliar with. Especially noted was Justin's ability to explain and demonstrate skills clearly and with efficiency, and took the time ensuring he gave each person equal attention while providing feedback on our technique, in order for us to get the most out of the session. This class was a great foundation for learning self-defence and is something I recommend to anyone, especially those who may often feel vulnerable or anxious as it is empowering and reassuring to know you have the ability to defend yourself in a dangerous situation. Thanks again for the great opportunity Mel! I felt so energised and focused that I went home and smashed out my assignment after a couple of days of feeling very low and uninspired." Emily, ECU nursing student
"The self-defence workshop looked amazing yesterday. What a fantastic modality to bring onto campus." ECU staff member, spectator
Homepage – Click Here
Timetable – Click Here