Fight for Change and the mystery of martial arts
* By Kristy Hitchens aka The Mortal Mouse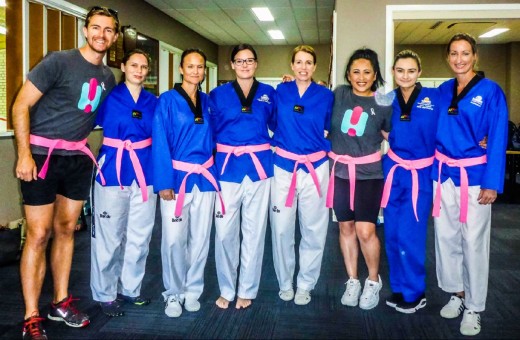 Many people who have taken up a form of martial arts like Taekwondo will tell you they experienced a somewhat magical transition where the practice became not so much a part of their life, but a way of life.
And through this process, their club becomes not a place where they turn up once or twice a week to train, but something inside of them.
This was how it felt when Taekwondo Central and its members gathered behind me in support of Saturday's Fight for Change event, hosted by Hitfm breakfast radio presenters Jesse and Juelz.
As you might have already heard, Fight for Change was the result of a collaboration between myself, Jesse and Juelz after they interviewed me on air recently about my Pink Belt Scholarship project which raises money to empower women in need through Taekwondo.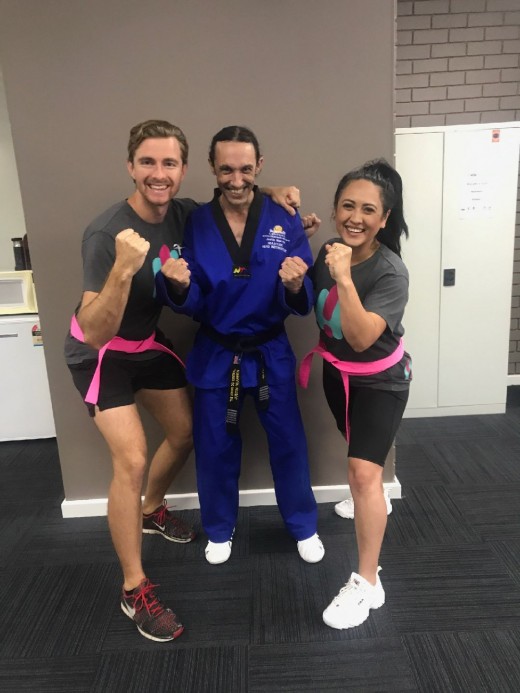 Fight for Change was a conversation about domestic violence with a free self defence workshop to coincide with White Ribbon Day and held simultaneously in five locations across WA – Bunbury, Albany, Esperance, Kalgoorlie and Northam.
The Bunbury event, included a free 1.5 hour self defence workshop at the South West Sports Centre by Taekwondo Central's Master Justin who donated his time and expertise on the day.
The entire concept would have fallen over very quickly if Master Justin hadn't so willingly and generously agreed to participate so I must offer him my sincere thanks for that.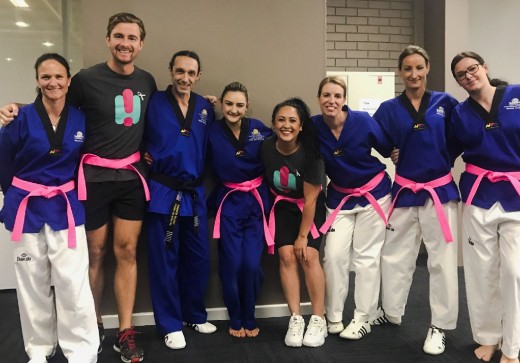 More than 40 women registered online for the event and we were blown away when all of them and more showed up full of energy and ready to learn. Having been teaching self defence even longer than he's been teaching Taekwondo, Master Justin with assistance from Head Instructor Ajana provided participants with confidence, empowerment, usable skills plus a few laughs, inspiring stories and a lot of fun.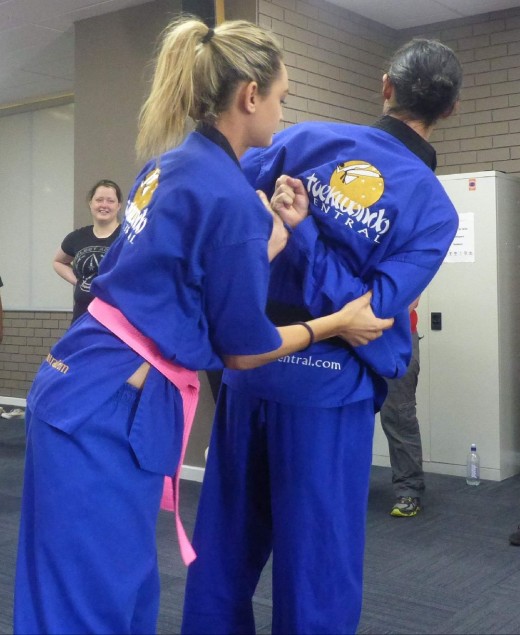 The room was absolutely packed and the atmosphere – despite the very serious messages behind the day – was overwhelmingly positive. The opportunity to be involved was an experience I won't forget in a hurry.
A highlight was seeing Master Justin coach Jesse and Juelz through their first board breaks as a conclusion to the workshop. There was so much clapping and cheering and the priceless look on Jesse's face afterwards showed he was completely astonished by his brilliant achievement.
That was just one highlight, there were so many more.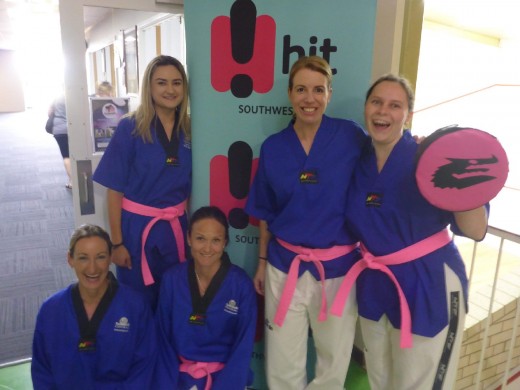 * News that a very fragile domestic violence survivor who struggled with some aspects of the workshop courageously made it through the event with gentle encouragement right throughout from one of TC's Pink Belt assistants. And on top of that, the participant left feeling empowered.
* A complete stranger slipped me a $200 donation towards fundraising for the Pink Belt Scholarship project asking that her generous contribution remain anonymous.
* Word from Juelz later in the day that feedback coming in from the other four locations around WA where Fight for Change events were held was also very positive.
* The buzz afterwards in knowing that together as a club we had been involved in something meaningful that would trigger a stunning ripple effect for others.
* A big bunch of participants expressing interest in continuing their training through Counterstrike, Taekwondo Central or MartialFit.
* The group of my Taekwondo sisters who all turned up wearing Pink Belts to support the event and support my project still gives me tears when I think about it days later. Even the amazing but always humble Head Instructor Ajana who tossed aside her 4th Dan Black Belt in favour of pink for the day!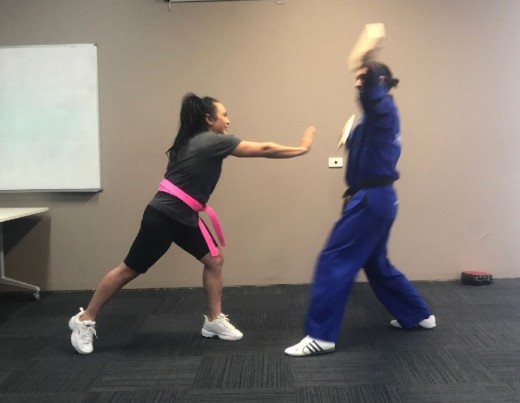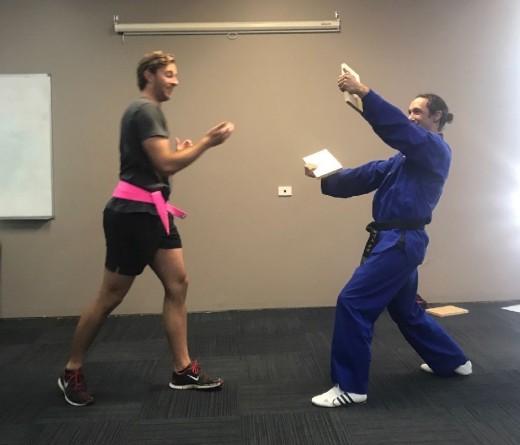 To Watch Jesse & Juelz break their boards – Click Here
A whole bunch more I know would have been there too if they could but were kept away by work and other commitments. They thoughtfully sent me their best wishes throughout the day.
All of this meant the world to me and reminds me of that old-fashioned saying: "Birds of a feather flock together".
I prefer the more modern take on it of: "Your vibe attracts your tribe".
At Taekwondo Central I have found a new tribe – a whole bunch of like-minded souls – who in a surprisingly short space of time, have become incredibly important to me. I put it down to another of the mysteries of martial arts!
Is a certain type of person drawn to the martial arts? Or do they become a certain type of person once there? Why do we all connect so effortlessly?
Throughout the process of this Pink Belt Scholarship project I have received so many genuine and lovely compliments about my efforts and drive to pull it off. We are now able to offer 14 scholarships at clubs across Australia.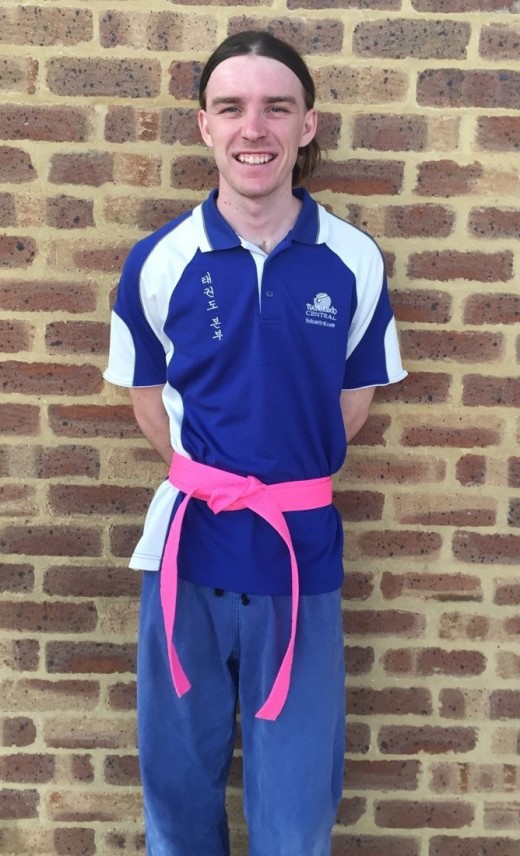 Even though I find it excruciatingly difficult to accept compliments generally, I feel the constant need to deflect ones about pink belt. Not because I'm being stupidly modest and humble but because all of this honestly would not have happened without the unbelievable support and encouragement I have received from my club every step of the way.
I won't single anyone out because I'm pretty sure they would know who they are. They are my tribe and each one of them inspires me every day through their achievements, through the personal battles they overcome, through their level of care and kindness toward others.
Just by being themselves, they encourage me to level up. In everything I do.
The very nature of a project like Pink Belt Scholarship demands a person out front and as uncomfortable as I am in that role, I have been able to do it ONLY because of the people in my club who have stood behind me propping me up the whole way.
Thank you could never be enough for helping me experience all of this.
"I alone cannot change the world, but I can cast a stone across the waters to create many ripples"
– Mother Teresa
Homepage – Click Here
Timetable – Click Here
Paragon Program – Click Here
Calendar Of Upcoming Events – Click Here
We're On FACEBOOK –  Click Here
Summer Holiday Program 2019 ( SHP2019 ) – Click Here

Taekwondo Centrals Head Instructor 4th Dan Black Belt … [Read More…]

– – Martial Arts Inspired Fitness … [Read More…]

I am so excited for the future of my Women's Only … [Read More…]

A Truly Amazing Young Women – Trinity Best has an … [Read More…]

The importance of young women learning martial arts and … [Read More…]