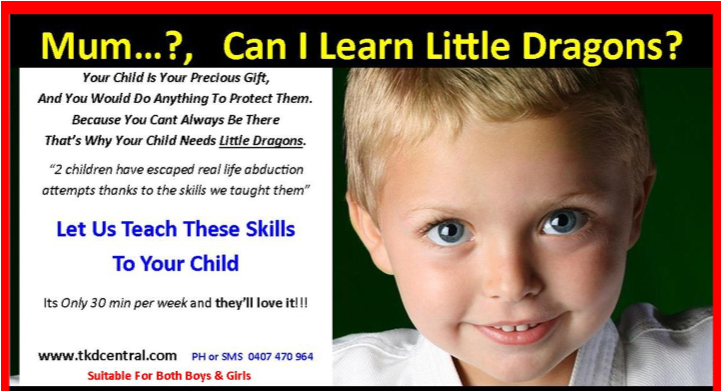 Tuesday & Thursday Afternoons (Starting 26th April 2016)

Busselton Little Dragonflies      (3 & 4 yrs)   =  3.30 – 4.00 pm
Busselton Little Dragons             (5 – 8 yrs)    =  4.00 – 4.30 pm
Busselton Junior Taekwondo    (9 – 14 yrs)  =  4.30 – 5.30 pm
Geographe Leisure Centre – Busselton
Cnr Queen Elizabeth Ave and Recreation Ln, West Busselton
Instructed By Ajana Plunkett (3rd Dan Black Belt)
John Crawford (2nd Dan Black Belt)
Classes commence from Tuesday 26th April 2016 (School Term 2)
Call or sms Ajana on 0429 324 415
Or email ajtkdcentral@gmail.com
The Busselton Kids Martial Arts Scene will now include The South West's most successful martial arts program for 3 – 8 years of age.
The Little Dragons Program run by Taekwondo Central The program currently has 120 active training children and has been running for 12 years
Why is it so popular? Because it has been proven to work when 2 of the children training in the program escaped real life kidnapping attempts on seperate occasions
Read The Mothers Testimonials Of What Happened – Click Here

Another reason they are popular is only 1 x 30 minute session is required per week so its a smaller commitment for both parents and children, but more importantly children are taught to escape situations. child based self defence all combined in a class that not only schools them on self protection but also entertains them, its a great combination to boost learning.  The class teaches what kids need to know to stay safe. To avoid abduction or keep bullies from targeting them. This is far more important and valuable to them than traditional movements, or fixed stances. A child's greatest chance to escape a kidnapping is fluidity and movement. So we focus on the important 20% of things that is really needed..
"Do not do that which is of no use" – Musashi
The 4 most dangerous mistakes parents make when choosing a self defence school for their child under 9 years of age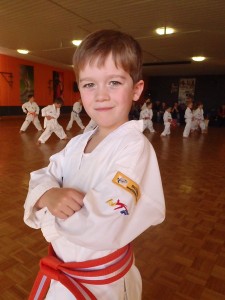 Little Dragons fits into the school terms and only runs during school is scheduled so it fits into the school cycle easily and into the kids weekly routine. Its a small commitment that gives great results with coordination, balance, flexibility, freedom of movement, reflexes, greater confidence, to make safer choices, personal safety and the belt process is a great way to teach children about goals and reward for effort.
Goals are the building block to being successful at anything in life, not just martial arts.
Geographe Leisure Centre – Busselton
Cnr Queen Elizabeth Ave and Recreation Ln, West Busselton
Tuesday & Thursday Afternoons

Busselton Little Dragonflies      (3 & 4 yrs)   =  3.30 – 4.00 pm
Busselton Little Dragons             (5 – 8 yrs)    =  4.00 – 4.30 pm
Busselton Junior Taekwondo    (9 – 14 yrs)  =  4.30 – 5.30 pm
Instructed By Ajana Plunkett (4th Dan Black Belt)
John Crawford (3rd Dan Black Belt
Classes commence from Tuesday 26th April 2016 (School Term 2)
Call or sms Ajana on 0429 324 415
Or email ajtkdcentral@gmail.com
To Find Out More On The Instructor – Click Here
Back To Homepage – Click Here
Our Timetable – Click Here

The latest Anti-Scan Technology, exactly like "Scan …[Read More…]

Ajana Plunkett surrounded by Madison Booth, Isobella … [Read More…]

We had a great time at Demo Training on Friday. Thank … [Read More…]

Ronan Main is our latest student to become a … [Read More…]