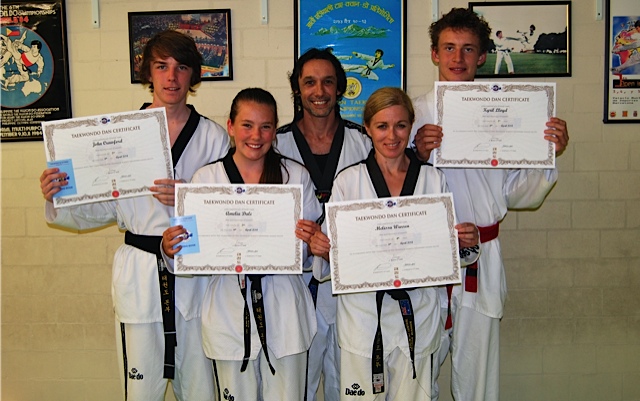 (From L-R. John Crawford (16), Amelia Dale (14), Master Justin Warren, Melissa Warren (40) & Kyrill Lloyd (17) after the Black Belt Grading)
Melissa Warren (40) has become Taekwondo Centrals first 4th Dan Blackbelt after passing the high black belt grading under the watchfull eye of Grandmaster Ross Hartnett (8th Dan) and Master Carmela Hartnett (7th Dan)
Melissa was tested over a variety of areas including Traditional Poomsae (Patterns), Advanced Kicking Combinations, 1 Step Sparring, 2 Step Sparring, Self Defence, Knife Defence, Olympic Style Sparring, Kickboxing Style Sparring and finishing with pine board smashing using 4 different techniques. Melissa endured months of conditioning and training to prepare and has now earned the level of Head Instructor meaning she can now grade others their belt levels.
Taekwondo Central has had 5 members in the past make it to 3rd Dan, Melissa is the first to raise above this level and be prepared enough to make the grading
Also stepping up at the grading were Taekwondo Central Bunbury's Junior Assistant Instructors Amelia Dale (14) and John Crawford (16) who have now both elevated to the level of 2nd Dan Blackbelt after they both passed the level required to pass this level. Amelia & John are both regular helpers in the Bunbury Taekwondo Central classes held at the South West Sports Centre and are a great contribution to the team
Kyrill Lloyd (17) is the next of our members to achieve the goal of blackbelt, Kyrill has been among the most disciplined at the club, taking every opportunity to fine tune his skills for the chance to be graded by a martial arts grandmaster
with a number of members lining up to achieve this level, Kyrills work ethic proves that goals can be achieved through consistancy, he deserves his blackbelt just on effort, though its not needed as he scored a pass and now holds a world recognised Taekwondo Black Belt.
Each member will have to wait the equivelent years as their dan level to grade the next level, Melissa Will get to attempt her 5th Dan in 2018, Amelia & John will grade 3rd Dan in 2016 and Kyrill can attempt 2nd Dan in 2015
Back To Home Page
Click Here
Latest News

Melissa Warren has been enjoying martial arts since age … [Read

Eaton Taekwondo – Eaton Martial Arts & Eaton Self Defence Training Eaton Little Dragons   (Beginner 5 – 8yrs Boys & Girls) 3.45pm – 4.15pm Eaton Recreation Centre Thursday Eaton Super Dragons   (Advanced 5 – 8 yrs Boys & Girls) 4.15pm – 5.00pm Eaton Recreation Centre               Thursday Eaton Taekwondo   (9 -55 yrs Male & Female) 5.30pm – […]