I was both horrified and yet very proud when I was told of a situation that arose for one of our black belt who used his skills to fend off 2 attackers
Kyrill Lloyd found himself in a situation that escalated very quickly. Kyrill is currently working in Townsville QLD where he is working FIFO from Bunbury.
After finding himself being targeted by some trouble makers giving him a hard time with their car,
Kyrill pulled over to hopefully deal with the situation as the driving was becoming dangerous.
Jumping from the car emerged a man holding a baseball bat and immediately went after Kyrill. With reflex action Kyrill kicked him in the face as he approached and followed that up with a well placed punch that dropped the attacker.
As fast as Kyrill could turn around the second thug thought he would avenge his mate charging to strike and was met with a back kick to the ribs stopping him in his tracks to receive a final face kick to end the situation.
–
"Timing Is Everything"
Miyamoto Musashi – 16th Century Samurai
The 2 scurried back to their feet and dove back into the car to get away, Kyrill's injury was just a scratched knuckle.
I am horrified that this level of potential violence can accompany road rage. However I am so proud of Kyrill that his skills come through for him at a time they were needed. he certainly had developed strong techniques by the time he set out for work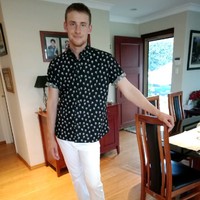 Kyrill Lloyd today
Kyrills self protection is a huge club success or the passing on of effective skills, you see Kyrill as a small child was our nightmare. Kyrill and I joke about his days of staring at the roof and being busted by me on many occasions.
He is one of the only a few persons that I have asked to leave class for a day as his focus was so low at the time.
He returned the next lesson different. more focused and started to train better. As he grew as a teen and started to develop some size, the focus was paying off. He had developed a lot more power, precision and got the timing aspect correctly. (which according to the story was crucial in hitting his attackers as the were trying to hit him)
Im just so happy he is ok but I think his story also shows the fact that your child doesn't need to be the super athlete or best co-ordinated to attain what they need.
Kyrill definitely wasn't to start. Its not about being better than anyone. Its about gaining the necessary skill to deal with an assault.
The skills were owned and usable because he kept turning up to training from a young age.
Even me kicking him out still didn't stop him turning up. He clocked up enough experience via training to develop usable reflexive defensive skill. Skill that worked.
90% Of Success Comes Just From Turning Up
The moves Kyrill used are all within the first 3 belt levels of our Taekwondo Syllabus but have been refined over years of practise. Simple techniques practised to refinement over years
There is no short cut to this skill. the hours need to be put in, the repetitions clocked up, the mind harnessed through training and the ability to foresee an attack to allow you extra time to respond.
This is all developed through just turning up to class. This is why we have an experience training level required to go for a belt. (Your Experience Book)
The students that really excel at our martial art don't have a bottom experience level to make.
They train on a regular basis and even have some incorporated for any home exercise just because they understand about refinement.
–
The message said
Kyrill was very thankful that years of training had paid off and he still has it.
So thanks to you for giving him the skills to survive this time without a scratch less a little skin off his knuckles"
– Kevin Lloyd (Kyrills Father)
From all of us at the club – your most welcome
–
A Basic Martial Artists Learns How To Do A Skill
An Advanced Martial Artist Learns How To Use A Skill
–
Homepage – Click Here
Timetable – Click Here
Paragon Program – Click Here
Calendar Of Upcoming Events – Click Here
We're On FACEBOOK –  Click Here
Summer Holiday Program 2019 ( SHP2019 ) – Click Here

Its a Parents worst nightmare but not for these 2 … [Read More…]

Paragon : A model or example of profound … [Read More…]

Taekwondo Centrals Head Instructor 4th Dan Black Belt … [Read More…]

By Luke Crane, 1st Dan Black Belt It's November … [Read More…]

With an earlier Taekwondo Ohdokwan Black Belt grading … [Read More…]

How Lucky we have been to be invited to teach … [Read More…]