Keeping you active and safe is very important to us
We are very lucky to practise such a versatile Martial Art and activity in Taekwondo that through simple changes made to our training, we can continue to enjoy feeling good plus keep our body and immunity strong to either fight off a virus or the local competition for the sort after toilet rolls (ha ha). We already have had measures in place and now we will move to the next phase
To Date We Have Already
1 – Supplied All Instructor 24hr Hand Sanitiser to avoid anything passing between Instructor & Student
2 – Disinfecting targets on a regular basis and lesson their use
3 – Followed hygiene practises to strengthen all of our defences
4 – Started limiting the use of training equipment
How You Can Help Us And Yourself
1 – Practise strict hygiene practises of washing hands with soap and water before class or use hand sanitiser
(Don't Rely On Others, Bring Your Own, All venues have washrooms)
2 – Please cough into your elbow or teach your child to do the same
3 – If your feeling sick or have flu like symptoms, please stay home until your better
4 – Wash your or your child's uniform each time you train
5 – Apply Personal Distancing in class for both students training and instructors
6 – Only spectate if your child really needs you there
7 – Don't share anything (water, towels, protectors etc)
We Are Now Employing The Next Step In Training To Keep You Safe
We are now putting aside any partner training while the COVID-19 threat is on,
to further personal distancing, classes will temporarily apply
1 – No Sparring
2 – No 1 or 2 Step Sparring For Black Belts
3 – No Person to Person Self Defence
4 – No Person to Person Techniques
5 – No Partner Drills Of Any Kind Including Partner Stretching
6 – No Weapons Defence and No Grappling Drills (Including Throws)
We are also trying to get hand sanitiser at each class for students to use (depending on availability)
How Training Will Change While The Virus Threat Remains
1 – Training will now move in the direction of solo training in class to keep required social distancing measures
2 – We will now focus on more traditional training and Poomsae (Patterns)
3 – We will increase "Air Technique Training" focusing on speed and technique of strikes & kicks
4 – We will add more individual conditioning to keep your body and immunity stronger
Upcoming Grading & Belt Examinations
There are somethings we don't have control of but we can make adjustments. With just 3 weeks until the end of term gradings
1 – We are changing the grading examinations to reflect our new training system
2 – Should the virus spread more we will shorten the grading term and take early autumn holidays
3 – Should venues close and stronger govt measures made we will offer students who have made required experience to date of closure a chance to move up a belt and reward them for their efforts
Looking Ahead
We cant be sure how long or what extent COVID-19 will have but to ensure we can all stay our best and safest
1 – When classes return after the holidays, we will offer optional term passes to avoid excess money handling
2 – Should we not be able to return after April Holidays, we will activate our C.O.R.E. system from our webpage and open a members only Facebook section for live training at home through your chosen device or screen.
What Is C.O.R.E.?
Central Online Reference Experience has been set up on our webpage back in 2012.
We have made over 144 training video clips of every move for each belt up to black belt.
Unknowingly we were way ahead of our time it seams
C.O.R.E. currently has Master Justin Warren taking you through and explaining each technique in detail plus printable diagrams to further your learning.
Over the holiday we are looking at refilming to update techniques and grading syllabus so you can train at home and pass your belts if a lockdown is enforced
We want to thank all our members for their continued support and as you can see above we are well ahead of the curve and staying in front of the circumstances to help you and/or your child stay strong, healthy and immunity fully boosted to help both our members, instructors and club come through this once in a lifetime concern.
We hope to see you stay onboard with us over this period be it for better health or greater self protection for you and your family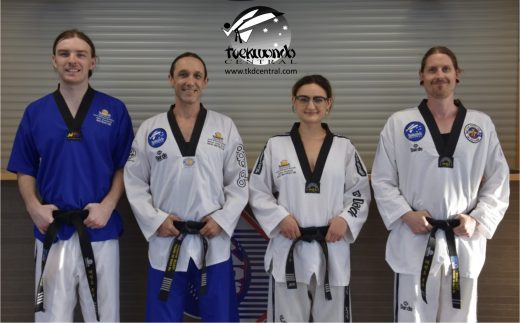 Homepage – Click Here
Timetable – Click Here
Paragon Program – Click Here
Calendar Of Upcoming Events – Click Here
We're On FACEBOOK –  Click Here
Taekwondo Central Founder and Master Head Instructor … [Read More…]
Taekwondo Central has 11 members promoted to Black Belt … [Read More…]