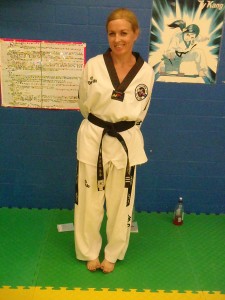 Melissa Warren has been enjoying martial arts since age 18 and now has moved up another Dan level in her quest for martial arts excellence
Recently passing her 4th Dan Blackbelt, Melissa loves the health & fitness Taekwondo give her. Her teaching at Taekwondo Central Bunbury,  is very dynamic and inspiring where she has spent many hours helping build confidence in her students and has a special knack for getting the best out of women. Though Melissa is small, she packs a hard kick and is strong, 20 years of pounding kick bags, punching and training has developed her strength and power.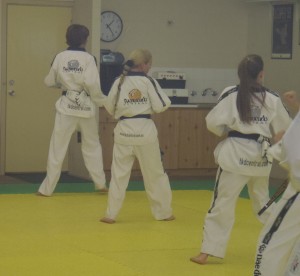 " I love the fact that Taekwondo gives you a goal that you can work on in your own pace" Melissa Says about her martial arts training. The quote "If you dont use it. you'll lose it" is a strong motivation for her "I love the flexability, power and health it gives while also being able to protect myself, its an amazing feeling I never get sick of" Mel added. Melissa holds ranks in other martial arts also to add to her experience including levels in Brazilian Juijitsu, Judo & Japanese Jujitsu.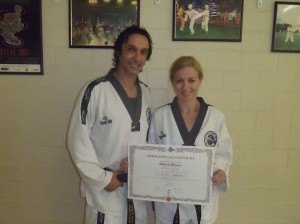 For the future, Mel hopes to continue working up her Dan levels, and also hopes to give more young children and women, confidence and self defence skills. Our systems at Taekwondo Central have achieved some amazing results and futhered so many peoples lives in so many ways. Just because your over 40, thats no excuse to give up. What ever you do, if your healthy, youll do it better and training at Taekwondo Central has amazing health benefits.
Back To Home Page
Click Here
Latest News

Great For Mums & Daughters – Learn The Skills All … [Read More…]