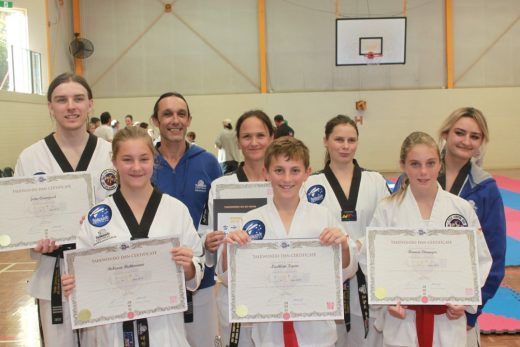 Celebrating its 20th anniversary this year, Taekwondo Central has made an addition to its Black Belt population by having six pass their Black Belt level in front of two Grandmasters of taekwondo (Ross Hartnett, Ninth Dan Black Belt and Carmela Hartnett, Eighth Dan Black Belt) in Perth.
Instructor John Crawford, 21, from Dalyellup led the way by moving up to his Head Instructor level (Fourth Dan Black Belt), a level few ever make in martial arts.
John is one of only four who have achieved this level in the club's 20 years of operation. This level takes some 10 years of training to achieve.
Mother and daughter combination Melanie Buhlmann, 47, and Rebecca Buhlmann, 12, from Australind put on a great display to earn their Second Dan Black Belts. A great memory for both of them to cherish.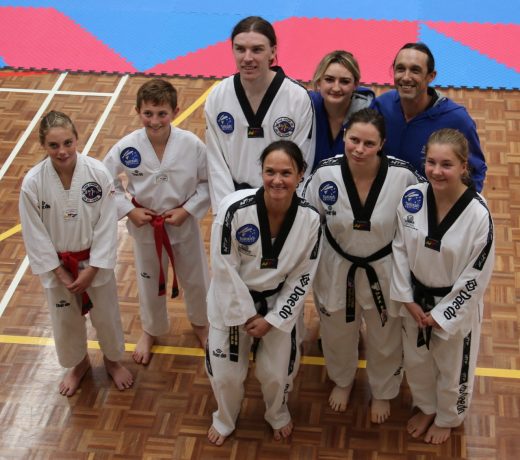 Donnybrook's Rebecca Collis, 22, kicked and punched her way to a Second Dan Black Belt under the watchful eye of the Grandmasters, showing that she had what it takes to make the level.
Newly-crowned First Dan Black Belts Lachlan Teune, 12, and Bianca Stranger, 11, both of Bunbury did the club proud by earning their new level after some four years of training.
All six students had to put on a display of taekwondo patterns, kicking combinations, punch and kick defences, self defence against various attacks, sport taekwondo sparring, kickboxing style sparring, and knife defence techniques.
They also had to show accuracy and power through demonstrating various board breaking techniques.
The team was supported by many club members who made the trip up.
Master Head Instructor Justin Warren (Sixth Dan) and Head Instructor Ajana Plunkett (Fourth Dan) were also members of the Taekwondo Ohdokwan judging panel.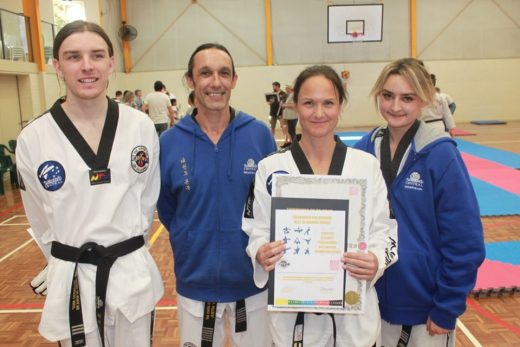 Melanie Buhlmann put in a special performance to earn the Best Grading Award by the panel, amongst some 60 people applying for their Black Belts from around the state.
What makes her effort even more amazing is that she recently recovered from a non-training broken back injury.
"We are all so happy with our team," Master Warren said.
"They did our club very proud, not only in skill level but also in the way they conducted themselves which is what we also teach at our club.
"Taekwondo is so much more than self protection and physical and mental health.
"The aspects of respect and lifting yourself to a higher personal level are also taught in our teachings. They're traits that can improve your life."
The next Black Belt grading is set for November 24, in which the club has around 10 students focused on achieving.
Taekwondo Central runs classes throughout Bunbury, East Bunbury, Eaton, and Australind, and new members are always welcome to take up the personal journey to Black Belt.
Call 0407470964 or go to tkdcentral.com for more information.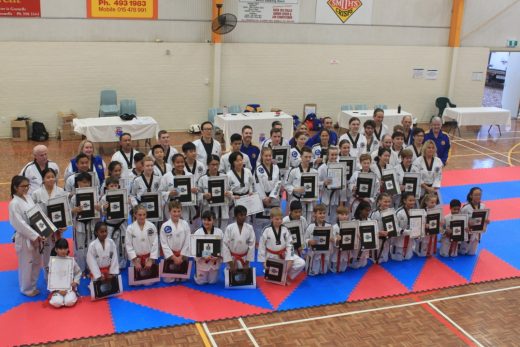 Homepage – Click Here
Timetable – Click Here
Paragon Program – Click Here
Calendar Of Upcoming Events – Click Here
We're On FACEBOOK – Click Here
Master Justin Facebook – Click Here
Term 3 – 2019  Starts From Monday 22nd July 2019 How … [Read More…]
Black Belts are the wisdom of our club Taekwondo … [Read More…]
Taekwondo Centrals Head Instructor Ajana Plunkett has … [Read More…]

TERM 2 CLUB DATES   For Our Clubs … [Read More…]

Taekwondo Centrals Head Instructor 4th Dan Black Belt … [Read More…]
–