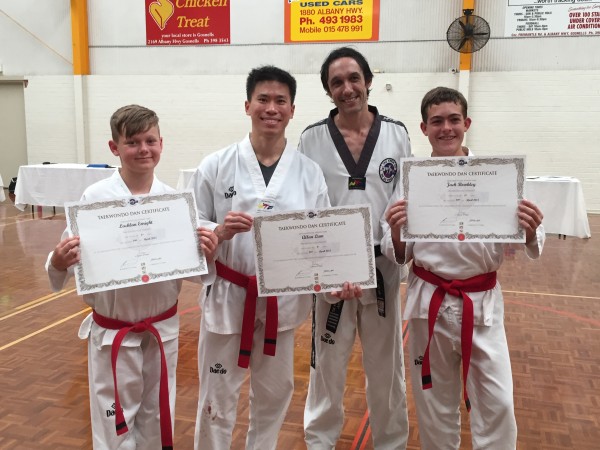 Our newest Black Belts to the Taekwondo Central Family have just passed their 1st Dan Blackbelt under the Taekwondo Ohdokwan System. With a judging panel Headed by Grandmaster Ross Hartnett (8th Dan), Grandmaster Carmela Hartnett (8th Dan) and Taekwondo Central Head Instructor, Master Justin Warren (5th Dan), Lachlan Enright, Allan Lum and Jack Bowkley had to show an arrange of skills including Traditional Poomsae (5 patterns in total), Kicking Combination Techniques, 1 & 2 punching defence (16 different defences) & self defence techniques. Sparring Olympic Style then Kickboxing Style and finishing with pine board smashing which all 3 of our members broke the boards easily.
Lachlan Enright has been the most dedicated and a great example of how quick your level can raise with correct focus, great job Lachy. Jack Bowkley has been a great example of not giving up and to keep persisting, it paid off. The hardest grading was done by Allan Lum. Being the only Red Belt in a sea of some approx 30 1st Dan Blackbelts, Allans skills were tested against blackbelt and he stepped up and put on a great grading receiving many comments on attitude and power.
Congratulations to all 3 of you, and welcome now to the Black Belt Master System where we will expand your knowledge and skills further.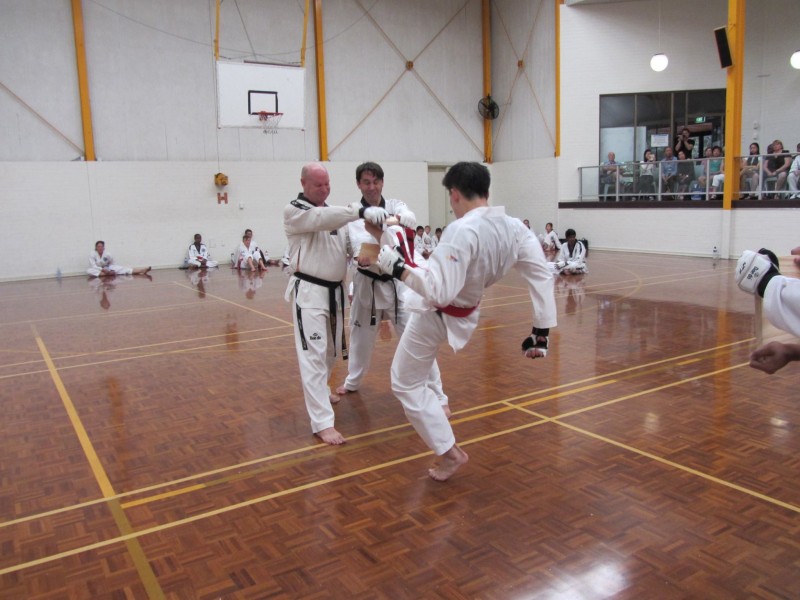 Allan Lum Smashes his 1st board while the 2nd board waits for its turn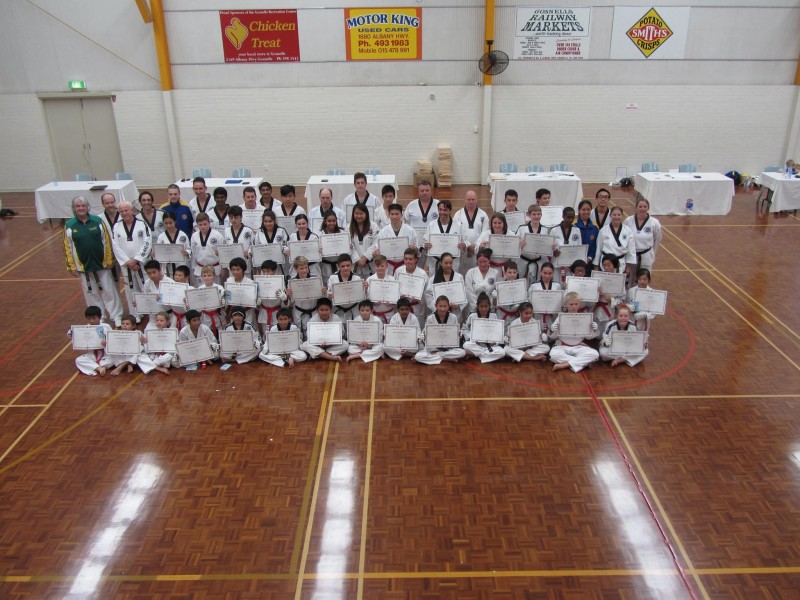 Homepage – Click Here
Timetable – Click Here
New Busselton Kids Martial Arts Classes – Click Here
LATEST NEWS
Our newest Black Belts to the Taekwondo Central Family … [Read More…]
Children's Self Defence Is Essential In todays world, … [Read More…]
 Please Check Out Our Other Services Below