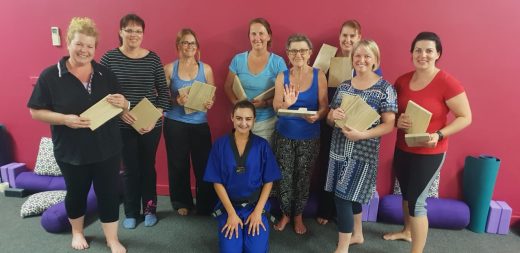 Reminding Women What They Are Capable Of
Taekwondo Central Head Instructor Ajana Plunkett is a very active Instructor. Always getting behind any women's club events and also teaching her own "Women's Only Taekwondo Class"
along with her duties as Taekwondo Centrals Head Instructor.
This week Ajana give up some of her time to help the "Welcoming Women Group" by Rebecca Tichbon
Its a great idea that opens women up to some different activities they can get started on in Bunbury
Ajana talked about self defence & women's safety. Taught some strikes and basic escapes and finished with teaching the ladies a board break.
Great job Ajana, keeping the women's personal safety message strong and well done to all who broke their board.
Homepage – Click Here
Timetable – Click Here
Paragon Program – Click Here
Calendar Of Upcoming Events – Click Here
We're On FACEBOOK –  Click Here
Its a great way to start our year out … [Read More…]
WOMEN'S EMPOWERMENT The South Wests Longest Running … [Read More…]